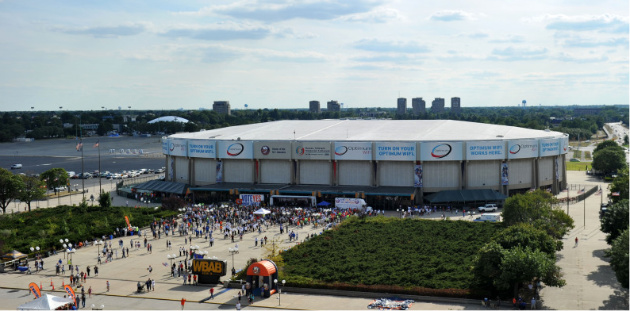 By: Adam Gretz
The future of the New York
Islanders
could be on the line on Monday, as a referendum to fund a new arena to replace the archaic Nassau Coliseum will be put to the vote. The Islanders PR blitz has been in full force for a while now --
as highlighted here on Tuesday
-- and now their biggest rival, the New York
Rangers
, is joining the campaign and urging their fans to help out.
The Rangers released a statement on Thursday stating their support for the Aug. 1 referendum, while also urging their fans to vote yes to help keep the 40-year-old rivalry going strong.
Said Rangers general manager Glen Sather in the statement: "The rivalry that has existed between the Rangers and Islanders for almost 40 years is one of the best in hockey and in all of sports. The intense passion and emotion involved in these games is something we cherish and would like to see continue for generations to come. We urge Rangers fans, Islanders fans and all hockey fans in Nassau County to vote yes for the referendum on Monday, August 1"
It's easy to see why the Rangers would support the vote, as the Islanders are their biggest natural rival, and it's not like they're going to put out a statement that is anything
but
supportive.
While this situation doesn't happen all that often in sports, it's not uncommon for rival teams and fans to show support for one another when the future of one of the franchises is in question. I remember back in 1995, for example, when the Browns were on the verge of being yanked out of Cleveland and Steelers fans, their biggest and fiercest rival, staged a Save The Browns rally before their last regular season meeting in Pittsburgh. Kind of a sports version of keeping your friends close and your enemies closer.
Photo: Getty Images
For more hockey news, rumors and analysis, follow @cbssportsnhl and @agretz on Twitter.