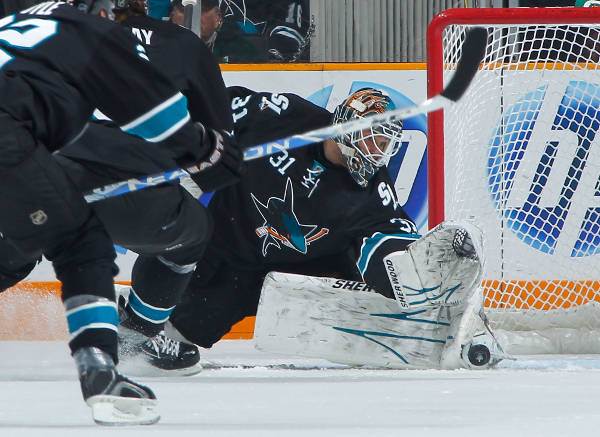 Antti Niemi
at least mixed in a save before his latest playoff letdown.
The San Jose
Sharks
goalie who allowed the first two shots on goal get to the back of the net in Game 3 earlier in the week stopped one of the first three shots he saw in Game 5 Saturday night. Niemi eventually allowed three goals on four shots and was pulled after 8 minutes, 42 seconds.
While he was solid in Game 4 and he's one of two goalies in the playoffs with a Stanley Cup title to his credit (Pittsburgh's
Marc-Andre Fleury
is the other),
Contra Costa Times columnist Gary Peterson writes
that it's time for a change in net:
Instead of being able to shrug off Niemi's bad night by extolling his ability to rebound from adversity, coach Todd McLellan is faced with a decision that was unthinkable five games ago.

He needs to switch goalies.

Yes, Niemi was nails in the last half of the regular season, playing at the top of his game, and playing almost every game. Yes, he was helping the Chicago Blackhawks to a Stanley Cup championship last year at this time.

That's old news as of Saturday night, when Niemi turned in his third sketchy effort in five starts.

"We came out, and we (stunk) from the start," Logan Couture said. "That's as simple as I can put it. Everyone made mistakes. You can't pin it on one guy."

That's what a good teammate says. But the brutal truth is, one man's mistakes stood out.
Antero Nittimaki didn't allow a goal as he faced 18 shots in relief as the
Kings
earned a 3-1 victory Saturday. (He also earned the victory as he replaced Niemi in Game 3 as the Sharks posted a four-goal comeback to win 6-5 in OT.) But CSN Bay Area (and CBSSports.com contributor)
Ray Ratto reports
that McLellan didn't sound as concerned as who's in net as the skaters in front of them:
"The first one (by Wayne Simmonds) comes off a hell of a deflection," McLellan said, reviewing the nails in his team's crest. "The second one (by Kyle Clifford), he makes a great save off a 2-on-1 that shouldn't exist (turnover by Dan Boyle), and the third one (by Dustin Penner), he's a little deep in his net, and he knows that."

But then he added a subtler but more damaging assessment, one that can't be fixed by exchanging a Finn (Antero Niittymaki) for a Finn (Niemi).

"We have six (defensemen) dressed who are better than they showed tonight," he said. "I probably don't have to tell them, but I will remind them of that."
-- A.J. Perez
Photo: Getty Images