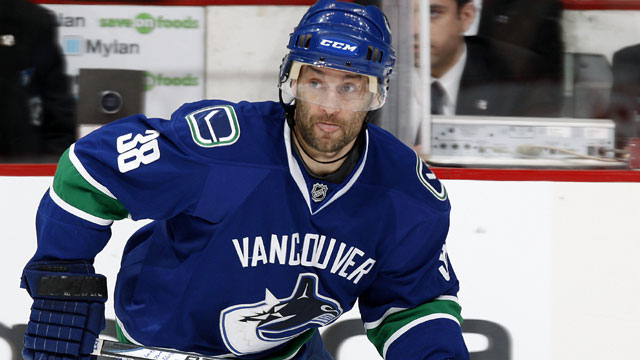 (Pavol Demitra/Getty Images)
For the fourth time this summer, tragedy has struck the hockey world. This time it comes in the form of a plane crash in Russia carrying the Lokomotiv Yaroslavl team of the KHL, a team that includes many former NHL faces.
Among those who were on the roster are former NHL players Pavol Demitra, Ruslan Salei Karlis Skrastins, Josef Vasicek and Karel Rachunek. The coaching staff was led by former Bruins, Whalers, Flyers and Red Wings defenseman Brad McCrimmon and also contained former NHL players Alexander Karpovtsev and Igor Korolev.
Plus, there were numerous others who were prospects for NHL teams. Among those was Devils prospect Alexander Vasyunov, who played in 18 games for the Devils last season.
"Words cannot express what has transpired," Devils GM Lou Lamoriello said. "I knew a lot of players that were on that team. Nothing could prepare the hockey community for the devastating news ... [This] has left all of us beyond words.
"[Vasyunov] wanted to go over and play a lot and come back here. He was so proud to be a Devil. I can't say enough about him."
Riley Armstrong, brother of Colby Armstrong, is part of the team but was not on the plane. He tweeted after the ordeal that he was OK.
"I'm safe, but thanks for the kind words but pray and think of the players and their families on that flight."
As you can imagine, in a league that now contains many Russian players and has its ties grow every year with Russia's top league, the responses have been numerous and distraught. Alex Ovechkin simply said "I'm in shock!!!!!R.I.P ...."
Panthers defenseman and former Lokomotiv player Dmitry Kulikov was left stunned. "It's just an empty feeling. Words can't express how I feel."
Then there was Lightning defenseman Nate Thompson. "A tragic loss for the hockey world. Plane crash with an entire KHL team on board. Thoughts and prayers go out to there families and friends."
Perhaps Demitra is perhaps the best known former NHL player among the bunch. He spent most of his NHL career with the Blues, where he had his best seasons as a player. His best year was 2002-03 when he scored 36 goals and had 57 assists. He was named to three All-Star teams; 1999, 2000 and 2002. He most recently played for the Canucks in 2009-10 before moving on to the KHL.
Moreover, he developed some tremendous friendships in the NHL. The bond he created with Keith Tkachuk in St. Louis was tremendous and Tkachuk was predictably hurt.
"I am beyond devastated by the tragic news involving my good friends Brad and Pavol and the rest of their teammates in Russia. Brad was my teammate in Phoenix and later coached me in Atlanta and was truly a wonderful man who will be greatly missed. Pav was like a brother to me and I cannot believe that he is no longer with us. This is a terrible day for the hockey fraternity. My family's thoughts and prayers are with their families during this difficult time."
Michael Russo of the Minneapolis Star- Tribune penned this story back in 2007 (at the bottom of the entry) about the strong bond Demitra developed with Marion Gaborik when the two were playing together for the Wild.
Ruslan Salei and Karlis Skrastins also had lengthy stints in the NHL, even being traded for one another at one point. In the 2007-08 season, the Avalanche sent Skrastins to the Panthers in exchange for Salei. In his one full season in Florida, Skrastins had his most productive offensive year, scoring four goals and 14 assists. The tough-nosed defenseman then played his final two NHL seasons with the Stars. Terry Frei of the Denver Post chronicaled Skrastins' trip to the NHL from Latvia.
"The Dallas Stars are saddened by the loss of former defenseman Karlis Skrastins in today's tragic plane crash in Russia," the team released in a statement.
Salei spent nearly a decade playing for the Ducks in Anaheim before he was signed by the Panthers. Like Skrastins, he had his best offensive season playing with Florida, scoring six goals with 26 assists in 2006-07 before being traded the next season to Colorado.
He was playing with the Red Wings just last season, playing 75 games with Detroit.
Vasicek played parts of seven seasons in the NHL, six of those with the Carolina Hurricanes. Team captain Eric Staal had this to say about Vasicek: "Joe was an awesome guy, always in good spirits, always smiling. It's just a tragedy."
Chad LaRose echoed those sentiments. "It's a shocker, a tragedy. Joe was a great guy. A life ended too early."
Vasicek's final season in North America was with the Islanders where he played alongside Radek Martinek.
"He was one of my best buddies. He was in my wedding. I can't believe this," Martinek said.
Among the confirmed dead is former Red Wings and Flyers defenseman McCrimmon, Lokomotiv's coach. The news was just as somber in Detroit with Wings coach Mike Babcock.
McCrimmon had been an assistant with the Red Wings the past three seasons, having spent time wit the Thrashers, Flames and Islanders as an assistant as well. He left Detroit to lead the KHL team in hopes of becoming a head coach in the NHL some day.
As a defenseman, he put up some absolutely unbelievable numbers in his career. In only two of his 18 seasons did he ever record a negative plus-minus mark and he posted a career-high plus-83 in 1985-86 with the Flyers. He ended his career with a plus-444, the 10th best mark in NHL history. Each of the nine players ahead of him are in the Hall of Fame.
This will go down as one of the biggest, if not the biggest sports tragedies we've ever seen. About the only things I can think that compare are the plane crashes that affected the Marshall football team and Oklahoma State basketball teams. Hopefully, and we hope with every bone in our body, this is the end of what will be known as the Summer of Sorrow in hockey. This has truly been an offseason from hell and hopefully one that we never see again.
For more hockey news, rumors and analysis, follow @EyeOnHockey and @BrianStubitsNHL on Twitter.