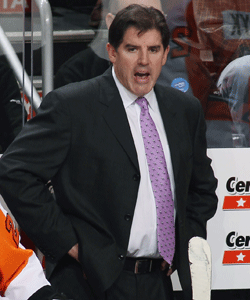 Can't we all just get along? If I were to guess, I'd say that's the question the NHL asked Philadelphia Flyers coach Peter Laviolette and Dallas Stars agitator Steve Ott.
In case you need a refresher, here's the story and video of the incident last week where Laviolette and Ott were seen exchanging a few words before Laviolette pushed Ott aside and headed through the tunnel.
Well, the verdict appears to be in and there won't be any punishment coming for either. Pierre LeBrun of ESPN.com reported on Tuesday that a different path was chosen by the NHL offices: Kiss and make up (not literally, of course).
The league investigated the incident and spoke to both parties involved but in the end asked that Ott and Laviolette speak to each other over the phone to hash it out, a source told ESPN.com. The league was satisfied Ott and Laviolette settled things and decided no fines were warranted.
Wonder how awkward that phone conversation was. I imagine Laviolette doing his best Bill Lumbergh impression: "Um, yeah, about that Steve. I'd like to apologize, OK?"
I got to say, I am a bit surprised that Laviolette at least won't be fined for the incident. I thought the league might use this as an example to show coaches that they are held to a higher standard.
But what I thought would happen vs. what I thought should happen are different and I have no problems with the guys essentially getting a warning. Chalk it up to heat of the moment ... and sharing a tunnel to the locker rooms. Just don't let something similar happen again and it's a no harm, no foul situation.
Photo: Getty Images
For more hockey news, rumors and analysis, follow @EyeOnHockey and @BrianStubitsNHL on Twitter.