Let's be literal when it comes to the phrase "destiny is in your own hands."
By definition, that can't happen. Destiny is not controllable. Just look at the Carolina
Hurricanes
, who were a win away from a playoff berth entering Saturday night's game against the Tampa Bay
Lightning
.
The Hurricanes responded -- well, they took the ice at least at the RBC Center -- with a listless first period and never recovered en route to a 6-2 loss. Instead of the playoff returning to Raleigh, it will be the New York
Rangers
who get to face the Washington
Capitals
in the first round of the playoffs.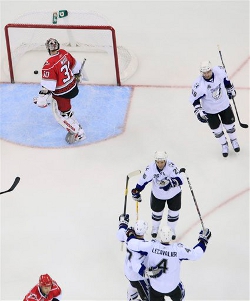 "I didn't feel the tension (early), but it mounted when it got (to a) two (goals)," Hurricanes coach Paul Maurice told reporters after the game. "Simple things became difficult to do. . . I think there was a chance (that Carolina) was in shock at 3-0. We felt alright going out and had come off the good night and then, boom. It happened so fast that you're shell-shocked a little bit."
The 'Canes could not solve lanky Lightning goalie
Mike Smith
, who only had one victory in 10 games against Carolina. (That one victory did come March 26, the 'Canes only regulation loss in their previous 10 games.) Smith made 42 saves, had one assist and came a couple feet away from scoring with 'Canes goalie
Cam Ward
pulled in the closing minutes of regulation.
Not bad for a goalie who will likely begin the playoffs on the bench in deference to the more veteran
Dwayne Roloson
.
The Lightning built a 3-0 lead in the first period off goals by
Dominic Moore
,
Vincent Lecavalier
and
Steven Stamkos
. It became a 4-0 lead midway through the second period off a
Brett Clark
tally.
By the time the 'Canes got on the board with 7:29 left in the second via a
Cory Stillman
power play goal, the game was basically unsalvageable.
What a difference 24 hours makes. The 'Canes cruised to a 6-1 victory over the Atlanta
Thrashers
a night earlier, a game that put them into a position to earn the eighth and final seed in the Eastern Conference a couple different ways. A Rangers loss to New Jersey would have made the Lightning-Hurricane game moot. Instead the Rangers earned a 5-2 comeback victory over the
Devils
to set up a win-or-golf game for the Hurricanes.
Still, Maurice said he'd take the disappointment of just missing the playoffs over being an also-ran.
"It should make it harder (to take)," Maurice said. "It should make it more painful. The more you invest in something, the more painful it should be when it goes away from you. Still, we'd much rather be in a situation where we fought as hard as we could to get to this point and have to go through the pain of this result than if we would have let it slip away a month ago."
With the end of the season, teams usually start to list the injuries they have hid the last several weeks. The first was captain
Eric Staal
, who Maurice said suffered a pulled groin three weeks ago.
"It got to a point last week (that) we weren't certain we were going to have him in the lineup," Maurice said. "He played so very well on limited legs and produced points."
With Saturday's loss comes the end of a stellar season by rookie
Jeff Skinner
, a favorite for the Calder Trophy. Skinner had an assist to bring his point total to 63, the highest of any rookie. His 31 goals were the third-most goals by a rookie, trailing New York
Islanders
forward
Michael Grabner
(34) and San Jose's
Logan Couture
(32).
Soon the 'Canes will assess who will be around next season. Forwards
Erik Cole
,
Chad LaRose
, Stillman and Jusi Jokinen, along with defenseman
Joni Pitkanen
will be unrestricted free agents. Maurice, who is in his second stint as Carolina's head coach, even addressed if he might be back.
"(General manager) Jim (Rutherford) will make his assessment," said Maurice, who took the 'Canes to the playoffs after he replaced Peter Laviolette during the 2008-09 season. "I'm very proud of the way the team has performed this year."
It didn't take long, however, for
Luke DeCock of The News & Observer
to point the blame:
Someone's going to have to answer for this. Surely it will be coach Paul Maurice, who hasn't taken a team he has coached for a full season to the NHL playoffs since 2002 and who cannot account for a loss Saturday that cost the franchise millions of dollars.

No matter how highly owner Peter Karmanos and general manager Jim Rutherford regard Maurice, even they must see that it's time for a change. Maurice is a good man and a good coach, but the past two seasons haven't measured up, and Saturday's flat-line with everything on the line defies explanation.
-- A.J. Perez
Photo: Associated Press