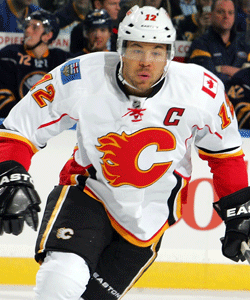 Methinks Jarome Iginla just won himself a lot more fans than he already has. That tends to happen when you say things that fans have been crying about for years.
It's no secret that most hockey fans abhor the shootout and despise a point going to the loser of games that go beyond regulation. The supporters of the system argue that it creates more parity and tighter playoff races. Critics call it a gimmick and say the apparent parity is a mirage. Why should you get a reward for losing?
Put Iginla in the camp that wants a win to be a win and a loss be a loss. From Randy Sportak of the Calgary Sun:
"It would be a little more stressful when you're in a shootout but be more fun. You'd have more riding on each game," Iginla said. "I'm sure I'm in a minority in that, but it would be exciting.

"Why I like sports so much is because it's unpredictable and so much is riding on it. It would add more."
It should be pointed out that Iginla isn't advocating the removal of the shootout, perhaps the most-often target of derision. He likes the NHL's idea for games not to end in a tie. The only problem for him is that single point teams get.
One of his teammate has similar feelings on the matter.
Flames defenseman Mark Giordano is a proponent of a 3-2-1-0 system, which gives teams three points for a regulation-time win and two for winning in extra time or a shootout.

"I don't think teams get rewarded enough for a regulation win," Giordano said. "It's not the same winning in a shootout as it is winning in regulation."
I know I'm on an island by myself here, but I don't mind the shootout the way everybody else seems to. I get why people don't like it, but it doesn't bother me. Much the same as a fight, the shootout is one of the few things to bring everybody to their feet in an arena and people watch intently.
But I would get behind the 3-2-1-0 format without a doubt. It would help take care of that tricky issue of a dominant 8-1 win being the same as a 2-1 shootout victory. That is problematic, no doubt.
So which format do you favor?
Photo: Getty Images
For more hockey news, rumors and analysis, follow @EyeOnHockey and @BrianStubitsNHL on Twitter.