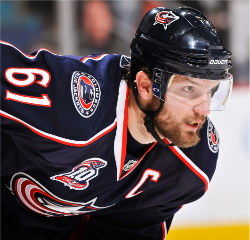 By: Adam Gretz
Rick Nash
is pretty much the NHL's version of Steven Jackson, the running back for the St. Louis Rams. An underappreciated great player that has spent his entire career hidden on what has been a terrible team, while always being a good citizen and company man about the whole situation, putting up with losing season after losing season with the hope that brighter days are on the horizon.
This season has been no different, as the
Blue Jackets
enter their game on Thursday at San Jose with the worst record in the league. Even worse, the team is off to the worst start in franchise history, an impressive accomplishment for an organization that's only had one winning season in its entire existence and never won a playoff game.
When you combine all of that with the fact that Blue Jackets general Scott Howson has
previously said he's going to be active in the trade market
, and the fact we're approaching the point in the season where trade discussion picks up a little bit (
just look at what might be happening out in Anaheim
), it's only natural that a player like Nash is going to be talked about, even if it's just rumors or speculation.
Nash is currently in the second year of an eight-year contract that pays him an average annual salary of $7.8 million. It also has a no-trade clause through the 2015 season, and Aaron Portzline of the
Columbus Dispatch
recently asked Nash if he would be willing to waive it if the Blue Jackets approached him regardin a trade.
"That's a tough question to answer in a situation like this," said Nash,
via the Dispatch
. "I love Columbus. I love being here. I love being a Blue Jacket. The city of Columbus deserves a winner and deserves a good product on the ice. If it comes to that — like you said, all speculation — but if they don't want me here, they want to move me? I'm not going to do something where it's going to hurt the franchise just because I have that in my contract."
Not exactly an "I'm not interested in leaving" response, but it's also not a "get me the hell out of here" type of plea, either.
Nash is still only 27 years old and in the prime of his career. Trading him at this point would not only mean the Blue Jackets are giving up on what's already a lost season, but it would also signal the start of yet another rebuliding phase (or, perhaps more accurately, continuing the "building" phase). He's still signed long-term, so there should be no rush to move him at this point, especially during what's been somewhat of a down season for him offensively (why sell low?).
In response to Nash's comments,
Howson told ESPN's Pierre LeBrun
that the organization's "position on Rick has not changed," which would seem to indicate that he has no interest in trading his captain and best player at the present time.
Since joining the Blue Jackets as the No. 1 overall pick back in 2002, Nash has scored 271 goals in his nine seasons with the team, including a pair of 40-goal campaigns and four straight seasons with at least 30 goals.
For more hockey news, rumors and analysis, follow @EyeOnHockey and @agretz on Twitter.