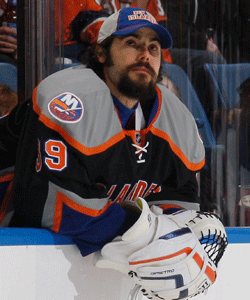 The Islanders placed goaltender Rick DiPietro on injured reserve on Thursday because of an injured groin.
That's the news. I have run out of jokes for this. Heck, comedians by trade probably would have no more material on it. This guy has been hurt in seemingly every way a goalie can be and has very few parts of the body that haven't caused him to miss time in his career.
But the good news in it all is that the Islanders have Al Montoya to handle the goaltending duties. He's been the best of the Isles' three goalies this season (the other being Evgeni Nabokov), so on the ice the story doesn't impact the Islanders all that much.
I'm sure you don't need me to tell you that DiPietro is injury prone. He puts Samuel L. Jackson's character in the awful movie Unbreakable to shame. With this visit to the IR, it's the second trip there already this season for DiPietro. A concussion put him on the list for a couple weeks earlier this season.
DiPietro, the No. 1 overall draft pick by the Islanders in the 2000 draft, has only played more than 26 games in four of his 10 seasons in the NHL, but he's on the Isles payroll for another 10 seasons at $4.5 million per season. So he has a long time to try and put together another full schedule, but you really wonder if his body will ever allow that to happen again.
It's easy to want to laugh at DiPietro's injury misfortunes over the years, especially for Islanders fans. It's a lot better than crying for them. But I don't think even the Islanders haters want to see the guy continue to get injured.
It just always seems like a foregone conclusion.
Photo: Getty Images
For more hockey news, rumors and analysis, follow @EyeOnHockey and @BrianStubitsNHL on Twitter.