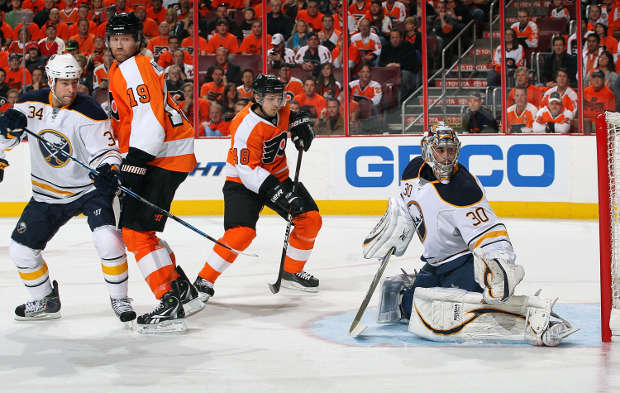 Ryan Miller didn't show signs of any lingering injury. Carey Price made Habs fans forget about what's his name? Oh, yeah. Jaroslav Halak.
Miller and Price each posted shutouts Thursday, a night after Pittsburgh Penguins goalie Marc-Andre Fleury and Nashville Predators netminder Pekka Rinne also held their opponents scoreless. Eight games, four shutouts so far in the playoffs.
Miller, who missed four of Buffalo's final six regular season games with an upper-body injury, stopped all 35 shots he faced in a 1-0 victory over the Philadelphia Flyers. Price, who sat on the bench while Halak led the Montreal Canadiens to the conference finals a season ago, halted 31 shots in a 2-0 win agianst the Boston Bruins.
With their donuts, Miller and Price stole home-ice advantage for their respective teams.
"You want to come out and establish that we can skate with these guys and come out and play our system and win a game," Miller told CSN Philadelphia. "We still think that they have a load of experience, and they've showed that they've been down and out before. So we certainly we're not going to be comfortable."
Price passed off the credit for his third postseason shutout to his skaters, who blocked 19 shots.
"We have had good chemistry all year," Price told The Montreal Gazette. "All I do is try to make the first save. They have done a really good job of getting to the rebounds, blocking guys out and blocking shots. . . . Guys were sacrificing their bodies all night."
Even in a loss, rookie Flyers goalie Sergei Bobrovsky, who struggled at the end of the regular season, answered a few questions. He can hardly be faulted for the game-winner in his first playoff start, which was tipped in on rebound by Sabres Patrick Kaleta.
"He played really well," Flyers defenseman Sean O'Donnell told CSN Philly's Sarah Baiker. "I think Bob answered a lot of critics. We never questioned him. As a team, we didn't play well the second half, but we knew we were revved up to come in here for Game 1, and he gave us a good chance to win tonight."
Highlight of the night
Los Angeles Kings goalie Jonathan Quick settled, well, quickly after the San Jose Sharks forward Dany Heatley scored on the second shot of the game. (It came 28 seconds into the game, the fastest the Sharks have scored in the playoffs in franchise history.) Quick stopped 41 of the next 42 shots to get the Kings into overtime before Kyle Wellwood found Joe Pavelski for this game-winner as the Sharks earned a 3-2 victory:
Top performance
Justin Williams missed the Kings' final nine games of the regular season with a separated shoulder. Early reports after the Mach 21 injury against the Calgary Flames said he'd miss the rest of the season -- the playoffs and all. He declared himself healthy earlier this week, Kings coach Terry Murray said earlier Thursday he'd put Williams in the lineup and Williams, in turn, grinded out a gutsy night where he had a stick in both goals. Williams had the primary assist on Dusint Brown's second-period tally and tied, 2-2, later in the same period.
-- A.J. Perez
Photo: Getty Images