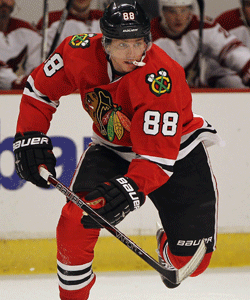 There's a reason why Patrick Kane's move to center was called an experiment by the Blackhawks. It's because it was not guaranteed to be permanent. Now it's guaranteed it WON'T be permanent as he was moved to his original position of right wing on Thursday.
Kane had been playing at center since just before the season began due to some concerns about the depth of the position on the roster. But now, after 24 games, there is more than enough confidence in Marcus Kruger's ability to play big minutes in the middle. So much, in fact, that he was moved up to the second-line center, the spot Kane held, while Kane was reunited with Jonathan Toews on the first line.
"Once I start playing and get a few shifts under my belt I'll realize what I used to do on the ice at that position," Kane told Chris Kuc of the Chicago Tribune. "I used to be good at it, setting up plays and different things like that. I've been playing [wing] since I was 15 years old so that's seven, eight years under my belt and you develop a game over there so I'm excited to be back."
Considering the success he has had in his career playing alongside Toews, that only makes sense. Although it isn't as if his scoring has suffered from moving to center. Despite zero goals and three assists in his last six games, Kane still has 24 points (7-17--24) in 25 games this season. Still, it's typically a good idea to have your talented players in a natural position.
"I felt that I got pretty comfortable at the position," Kane said of center. "I'll still try to do some things I did at center where you're trying to get the puck a lot down low, moving up ice. "It was definitely a bit of a challenge, especially playing a position seven, eight years you get so used to playing the right side. I don't think (playing center) is totally out of the books yet; it's something they probably could go back to if they need it."
Well, welcome back to the top line. Now he gets to play with Toews again and perhaps get more opportunities to show off how exactly he scores goals.
Photo: Getty Images
For more hockey news, rumors and analysis, follow @EyeOnHockey and @BrianStubitsNHL on Twitter.