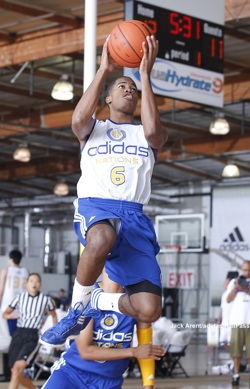 While everyone was focused on their New Year's Eve plans, Florida snuck in and grabbed a commitment from the class of 2013.
Kasey Hill, a 6-foot-1 junior from Montverde Academy, committed to the Gators on Saturday evening. Hill chose Billy Donovan over Kentucky, Louisville, Florida State, North Carolina State and others.
Florida Rams AAU coach Matt Ramker confirmed the news to CBSSports.com.
Hill is ranked No. 10 in CBSSports.com's Top 100 for 2013. He shot up the rankings over the summer, leading his AAU team to a championship at the Adidas Invitational in Indianapolis. His performance there had some people calling him the best point guard in the country.
Hill is virtually unstoppable at times, using his speed and explosiveness to make plays in transition or get to the rim in a half-court setting. He has a very good first step that enables him to beat his defender off the bounce and he has a variety of scoring moves in the lane. Hill is also a solid passer with good vision.
He is the Gators' first commitment from the junior class.
Indiana picks up junior Luke Fischer
It looks like Luke Fischer was among the growing number of people impressed by Indiana's big-time win over Ohio State on Saturday.
Shortly after Fischer watched the Hoosiers beat the Buckeyes at Assembly Hall, Fischer decided to go ahead and commit to Tom Crean's program.
Fischer, a 6-foot-10 junior forward, chose Indiana over Iowa, Creighton and others.
"I'm just really excited to be a part of this program," he told the Indianapolis Star. "I just think it's really cool to see where the program is today and the directions it is heading. I want to be a part of that."
Fischer joins Colin Hartman and Devin Davis in Indiana's class of 2013.
Jefferson trims list to five
Despite being a five-star prospect, Amile Jefferson has played his recruitment pretty close to the vest. Over the weekend, though, he gave some insight as to where he stands right now.
Jefferson revealed his final five schools, according to Philly.com: North Carolina State, Villanova, Ohio State, Kentucky and Temple.
According to the report, Duke is also still a potential destination even though the Blue Devils are not in his final five.
Jefferson is a 6-foot-9 scoring forward from Friends Central (Pa.). He is one of the most difficult matchups in the country, and is extremely tough to stop along the baseline. Jefferson ranks No. 13 in our top 100.
Photo: Adidas