The reaction of fans is always one of the best parts of putting out player rankings. Since the concept of ranking high school prospects is completely subjective and up for debate, there is plenty of room for discussion when it comes to certain rankings. As a result, we sent out a few tweets looking for questions and reactions to the rankings. Then, we chose 15 or so that encompassed different players, teams and regions. If you were left out, ask me on Twitter @jeffborzello and I'll answer there. Thanks!
What do you like about Jarnell Stokes over Anthony Bennett?
To me, Stokes (above) is one of the best low-post scorers in the class. He has a great body and uses his strength to finish through contact on a consistent basis. He is also a great rebounder and is improving his face-up game. Bennett shot up the rankings in the spring and summer, but I still like Stokes because of his consistency.
How does Kareem Canty fall out of the top 100?
While Canty is extremely quick and very difficult to defend, he lacks the leadership gene that elite point guards need. He sometimes makes poor decisions and turns the ball over too often. Moreover, while he is tough to stay in front of offensively, he also struggles to guard opposing point guards. His injury at NBA Camp probably didn't help him, either.
Grant Jerrett No. 30? Was wondering what he did to drop that far.
Jerrett (right) didn't drop that far – he was No. 22 in the pre-July rankings. He is very effective offensively, but he struggles at times to finish through contact and does get pushed around in the paint. That's not to say he's a bad player, though: Jerrett is still one of the best frontcourt players in the country and is going to make a big-time impact at the next level.
Steven Adams dominated at Adidas Nations. Where is he?
We only rank players that are at high schools in the United States. Word has it that Adams will attend Notre Dame Prep (Mass.) this fall, so we will get a chance to see him in November and December and will adjust for our January rankings accordingly.
How much do you factor attitude into the rankings?
Depends on the player, and how severe the attitude problem is. If he constantly berates teammates or referees to the point that it affects his game or his teammates' games, then it will factor more into his ranking. If it's more of a competitive streak that sometimes goes over the line, then it will be less of a factor.
What's the Tyler Lewis fascination?
Well, Lewis did drop 21 spots, so I'm not sure there's a fascination. But Lewis is outstanding offensively, and doesn't back down from anyone despite his size. He has great handle and is adept at getting his shot off against any defender. Lewis has the confidence and quickness to make consistently make plays in transition or in a half-court setting.
What's your reasoning for Brice Johnson being so high?
Johnson was unbelievable at the Peach Jam in mid-July. One high-major head coach sitting next to me thought he was a future lottery pick. Johnson isn't great in his back-to-the-basket game, but no one's asking him to be the next Hakeem Olajuwon. He has a very good mid-range game, and is excellent in transition. His potential is through the roof.
Marcus Paige is the No. 1 point guard for most services; why low for you, especially with performance on his bum ankle this summer?
We don't have Paige that low – he's the No. 3 point guard in our rankings and only six spots lower in the overall rankings than our No. 1 point guard, Kris Dunn. It's not a knock on Paige. We just feel Dunn is more explosive and Yogi Ferrell has the potential to take over a game offensively. Paige is a great playmaker and point guard, and he will make an impact at North Carolina.
I know Butler commit Chris Harrison-Docks was in the MaxPreps Top 100 at one point. What caused him to fall out?
I'm honestly not sure when Harrison-Docks was in the Top 100, but he's still a solid pick-up for Brad Stevens. He is a big-time competitor who doesn't mind talking trash to opponents. He plays off his confidence, and can get hot from 3-point range when he is feeling it. His fearlessness is his biggest asset – and biggest weakness.
Rosco Allen No. 83? Seriously? Seen him play lately?
Yes, we have seen Allen lately. To us, he still needs to expand his game beyond being a 6-foot-8 outside shooter. He is not that strong or quick, and isn't very effective playing in the paint. On the other hand, because of his size and perimeter ability, he is a match-up problem for most opponents.
So how is that Butler still can't land a Top 100 guy?
I don't think Brad Stevens' goal is to land top-100 players. He goes for players that will fit into the Butler system, and he lands most of the players that he truly targets. Also, many of the players he gets are in the 125-175 region. Kellen Dunham and Chris Harrison-Docks are both very good guards – albeit with completely different personalities.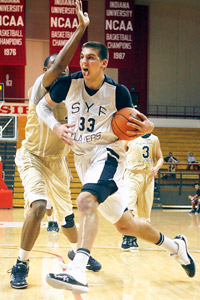 What are the chances of Maryland landing Mitch McGary?
Since the second part of this question said I couldn't say "one out of six," I'll choose something else. For most of June, McGary constantly said that Maryland was coming at him the hardest – in fact, the Terrapins were one of the few colleges he would actually name. Obviously, Maryland was named into his final six, and he has already visited the school. Florida, Kentucky, North Carolina and Duke are likely to get visits soon, so we will have a better idea of where McGary stands in a couple of weeks.
Why the fall for J.P. Tokoto? I know he had a down 2010 summer but what's the deal now? Has he actually regressed or is it just the overall quiet summer he's had?
Received multiple questions about Tokoto. The bottom line is that players have simply caught up to him, and he hasn't improved. Tokoto still has great athleticism and can get to the rim and finish, but he is struggling to expand his game. He lacks strength and is not a good enough ball-handler to play the point guard position full-time. Moreover, his outside shot is inconsistent, enabling defenders to play off of him. The length, athleticism and natural talent is there – but he needs to work on his weaknesses.
I was just wondering where you rank Fred Van Vleet, the point guard out of Illinois?
Van Vleet, who committed to Wichita State before the live period, had a great July. He is an absolute steal for the Shockers, as he definitely rose up the pecking order of point guards with his play during the month. Van Vleet isn't going to blow you away with his quickness, but he gets into the teeth of the defense and creates shots for himself and teammates.
Curious to hear your thoughts on Josh Scott of Colorado. He seems to be a fast riser. Is CU getting a steal with him?
Scott is an interesting case. When we saw him at the Tournament of Champions in May, he was excellent. However, at the NBPA Top 100 Camp, he struggled mightily in nearly every game. In July, though, he was back to the form that made people so high on him in the spring. The fact is, Scott is a different player with his AAU team and is tough to evaluate in a camp setting. He scores very well around the rim and makes smart decisions in the post. Scott, along with Wesley Gordon, is a very good pickup for the Buffaloes.
Photos: Point Guard U, Cali High, ESPN