By Jeff Borzello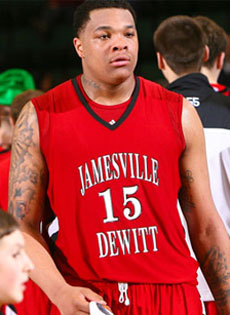 The question surrounding DaJuan Coleman throughout his entire recruitment centered around Syracuse.
After all, the five-star big man attends Jamesville-Dewitt (N.Y.) near Syracuse and has been to the upstate New York campus on numerous occasions. Moreover, his former high school teammate, Brandon Triche, is currently a junior guard for the Orange.
With that said, his decision process has lasted far longer than expected -- is that a sign that Syracuse has been passed in Coleman's mind?
We will all find out on Tuesday afternoon, as Coleman will announce his commitment at a 2:30 p.m. press conference at his high school.
Along with Syracuse, the other schools in the running are Ohio State and Kentucky.
Coleman visited Kentucky for its Big Blue Madness, and the Wildcats have made up plenty of ground in this recruitment. In the summer, Coleman's AAU coach told me that Kentucky was "1A" in the race.
He has also taken a visit to Ohio State, and he has said he would like to be a Jared Sullinger-type player for the Buckeyes.
Coleman, a 6-foot-9 big man, is ranked No. 15 in CBSSports.com's Top 100. At one point, he was in the running for the top spot in the class but he has slipped some over the past year. Despite that, his physical prowess and soft touch around the rim make him very difficult to stop down low. He uses his body well and can grab rebounds consistently. If he tones his body and gets in better shape, Coleman has the potential to be a dominant force in college.
Which college will that be? We'll find out in less than 24 hours.
Photo via Lonnie Webb