With the College World Series beginning Friday, here are five players to keep your eye on for the next couple of weeks:
5. Bryce Brentz, Middle Tennessee: The sophomore was named first-team All-America and is one of 30 players up for the 2009 USA Baseball Golden Spikes Award. Bentz was close to winning the triple crown, leading the nation in average (.482), home runs (28). He ranks 25th in RBI with 72. Brentz has also pitched this season, going 5-3 with a 4.78 ERA.
4. Mike Leake, Arizona State: The junior pitcher became the first Pac-10 player to win conference pitcher of the year in consecutive seasons. He enters the CWS with a 14-1 record and a 1.24 ERA. He also has 128 strikeouts in 115 2/3 innings, while walking only 18.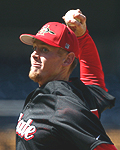 3. Jared Mitchell, LSU: The two-sport star (plays wide receiver for the Tigers) is expected to be a top pick in the upcoming draft. He is currently hitting .326 with a team-leading 30 steals. He was drafted in the 10th round by the Twins out of high school, but opted to go to LSU to play football and baseball.
2. Dustin Ackley, North Carolina: The first baseman, who is a semifinalist for the Dick Howser Trophy and Golden Spikes Award, is hitting .399 with 20 home runs and 61 RBI. Ackley was named ACC player of the year and is one of only two players in school history with 300 hits and 200 runs scored.
1. Stephen Strasburg, San Diego State: The projected No. 1 pick by the Nationals in the upcoming draft is having a phenomenal season. He is 13-0 with a 1.24 ERA and has 180 strikeouts in 102 innings. He recently set the Mountain West Conference records for strikeouts in a season and career (360). He was named national player of the week five times in 2009 and eight times in his career. Was named the winner of 2008 Dick Case Award, presented to USA Baseball's Player of the Year, for his performance with the collegiate national team and the U.S. Olympic squad last summer.