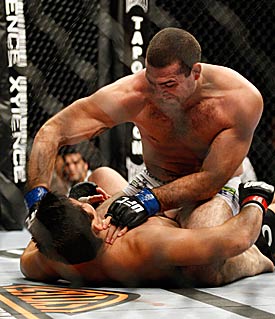 In the main event, Lyoto "The Dragon" Machida defends his light heavyweight title against the man many believe was robbed out of a decision in their last fight, Mauricio "Shogun" Rua.
As the undercard fights were happening earlier tonight, word broke (via ESPN's Franklin McNeil) that an unnamed source said Rua injured his knee in training and will be fighting hurt.
Yahoo! Sports' Kevin Iole later commented on Twitter that Dana White denied the report. On one hand, If Rua was fighting hurt, I don't think he'd necessarily tell White (or anyone else) about it beforehand. And if White did know something, I wouldn't expect him to go chit-chatting about it on press row. I guess we'll know for sure once the fight starts.
Round 1:
Shogun kicks the lead leg almost immediately. Machida's karate stance leaves him open to Rua's strategy. Rua throws a three-punch combo, landing two of them clean. Leg kicks from both guys. Rua tries for a takedown and Machida turns it around on him. Rua sweeps and gets back to his feet, clinching Machida against the fence. They separate and Rua pushes forward quickly with a flurry of fists. A right hand looks to have stunned Machida briefly.
Rua with another takedown attempt and Machida ends up on top, again. They stand and Machida lands a couple of good knees to the body. Rua with a head kick, Machida blocks it. Rua with a big right hand that sends Machida to the canvas. Rua unloads on him from the top, eventually knocking Machida out cold. Your new UFC light heavyweight champion is Mauricio "Shogun" Rua, and he did it in very convincing fashion. So much for a bum knee.
Winner: Mauricio Rua
defeats
Lyoto Machida
via KO due to strikes at 3:35 of Round 1 to win the UFC light heavyweight title.