All right... So, Spring Training is about to start and people have been wondering who will be in the '09 playoffs. Well, I just couldn't wait for Manny Ramirez to get signed, so I just decided what the heck and I'll fix them whenever Manny gets signed. I apologize, I don't have the team logos, it keeps making them large, I have no idea why I can't fix it... I've decided to add playoff projections and projected lineups and starters (don't have the bullpen) (as according to CBS (all stats are from 2008 season)). I just have AL East so far, I'll do the rest later..
AL East
New York Yankees - The addition of CC Sabathia and A.J. Burnett, though both have had injuries in their past help the New York rotation while Mark Teixeira (I can never spell his name right) will provide some extra power.
Projected Lineup
LF Johnny Damon (.303 AVG 17 HR 71 RBI)
SS Derek Jeter (.300 AVG 11 HR 69 RBI)
1B Mark Teixeira (.308 AVG 33 HR 121 RBI)
DH Hideki Matsui (.294 AVG 9 HR 45 RBI)
C Jorge Posada (.268 AVG 3 HR 22 RBI)
RF Xavier Nady (.305 AVG 25 HR 97 RBI combined stats)
2B Robinson Cano (.271 AVG 14 HR 72 RBI)
3B Cody Ransom (.255 AVG 22 HR 71 RBI in 116 AAA games)
CF Melky Cabrera (.249 AVG 8 HR 37 RBI)
Mark Teixeira's presence definitely adds some more power to this Yankees lineup. There are some aging players with Posada, Rodriguez, Jeter, Matsui, Damon, but they are still solid. This lineup has a good balance of lefties and righties. I actually would switch Matsui and Posada in terms of order, but they both still provide solid enough protection for A-Rod and Teixeira. I'm almost certain that Nick Swisher will be able to do enough to get the majority of the at-bats in center field, despite CBS having Cabrera as the starting CF (which is interesting). It's possible that Cody Ransom will have to step in for A-Rod's injury.
Starting Rotation w/ Closer
LH CC Sabathia (17-10 2.70 ERA combined stats)
RH A.J. Burnett (18-10 4.07 ERA)
RH Chien-Ming Wang (8-2 4.07 ERA)
LH Andy Petitte (14-14 4.54 ERA)
RH Joba Chamberlain (4-3 2.60 ERA)
CP Mariano Rivera (6-5 1.40 ERA 39 of 40 save opportunities)
I think the key to this rotation is definitely health. A.J. Burnett is a major concern while Sabathia and Wang have a little bit of injury history. Chamberlain and Petitte are along the same lines, but isn't too much of a concern. Chamberlain, I feel, will have his sort of breakout year as the starter. I think he has learned enough about what it'll be like to start in the majors and I hope not to see him in the bullpen again (though he does excel).




Tampa Bay Rays - This young and spunky group is ready to make a return to the playoffs in a reloaded American League East. I liked the addition of Pat Burrell to help this team hit against left-handed pitching, something they struggled with a little last year.
Projected Lineup
2B Akinori Iwamura (.274 AVG 6 HR 48 RBI)
LF Carl Crawford (.273 AVG 8 HR 57 RBI)
CF B.J. Upton (.273 AVG 9 HR 67 RBI)
3B Evan Longoria (.272 AVG 27 HR 85 RBI)
1B Carlos Pena (.247 AVG 31 HR 102 RBI)
DH Pat Burrell (.250 AVG 33 HR 86 RBI)
C Dioner Navarro (.295 AVG 7 HR 54 RBI)
RF Gabe Gross (.238 AVG 13 HR 40 RBI)
SS Jason Bartlett (.286 AVG 1 HR 37 RBI)
Very nice top of the order with a very powerful middle of the order, especially w/ the presence of Carlos Pena, who has quietly become one of the better first basemen in the league. There may be some more young talent incoming for the Rays with Reid Brignac and Tim Beckham (though Beckham is probably a couple of years away). Also watch for Fernando Perez and Gabe Kapler get a few spot starts.
Starting Rotation w/ Closer
RH James Shields (14-8 3.56 ERA)
LH Scott Kazmir (12-8 3.49 ERA)
RH Matt Garza (11-9 3.70 ERA)
RH Andy Sonnanstine (13-9 4.38 ERA)
RH Jason Hammel (4-4 4.60 ERA)
CP Troy Percival (2-1 4.53 ERA 28 of 32 save opportunites)
This young rotation is looking very good for the Rays, especially knowing how much they still have left in them. Shields has emerged as the leader of this rotation with Kazmir and Garza not far behind. Sonnanstine is a solid 4 starter while David Price will look to continue from where he left off in last year's playoffs.


Boston Red Sox - The Red Sox did the least, in my opinion, to improve their team. They added Brad Penny, who's coming off an injury, John Smoltz who was injured and will be out until at least June, and are without Manny Ramirez, who had a bigger impact than Jason Bay in my opinion.
Projected Lineup
CF Jacoby Ellsbury (.280 AVG 9 HR 47 RBI)
2B Dustin Pedroia (.326 AVG 17 HR 83 RBI)
DH David Ortiz (.264 AVG 23 HR 89 RBI)
1B Kevin Youkilis (.312 AVG 29 HR 115 RBI)
LF Jason Bay (.286 AVG 31 HR 101 RBI)
RF J.D. Drew (.280 AVG 19 HR 64 RBI)
3B Mike Lowell (.274 AVG 17 HR 73 RBI)
SS Jed Lowrie (.258 AVG 2 HR 46 RBI)
C Jason Varitek (.220 AVG 13 HR 43 RBI)
The lineup isn't changed much from the end of last year except for the fact that you don't see Julio Lugo starting at shortstop. Lowrie has the potential to be a good shortstop for this Red Sox team. Youkilis will definitely have to continue the success he's been having when batting and providing protection for David Ortiz.
Starting Rotation w/ Closer
RH Josh Beckett (12-10 4.03 ERA)
LH Jon Lester (16-6 3.21 ERA)
RH Daisuke Matsuzaka (18-3 2.90 ERA)
RH Brad Penny (6-9 6.27 ERA)
RH Tim Wakefield (10-11 4.13 ERA)
CP Jonathan Papelbon (5-4 2.34 ERA 41 of 46 save opportunities)
I don't think this Sox rotation is much improved from last year. Penny is coming off an injury and Wakefield is really fading. John Smoltz should be around mid-season, so he might be able to provide an improvement over Wakefield. Still a decent rotation, just I don't feel it is better than last year's.




Toronto Blue Jays - The Blue Jays stayed fairly quiet during the off-season. They are without Dustin McGowan for much of the year and Shaun Marcum for all of it. Roy Halladay will be anchoring this rotation once again as the Jays look like they won't have enough once again to compete for a playoff spot.
Projected Lineup
SS Marco Scutaro (.267 AVG 7 HR 60 RBI)
2B Aaron Hill (.263 AVG 2 HR 20 RBI)
RF Alex Rios (.291 AVG 15 HR 79 RBI)
CF Vernon Wells (.300 AVG 20 HR 78 RBI)
DH Adam Lind (.282 AVG 9 HR 40 RBI)
3B Scott Rolen (.262 AVG 11 HR 50 RBI)
1B Lyle Overbay (.270 AVG 15 HR 69 RBI)
C Rod Barajas (.249 AVG 11 HR 49 RBI)
LF Travis Snider (.301 AVG 2 HR 13 RBI)
The lineup is a bit weak for the Blue Jays this year. Scutaro at leadoff? Rios and Wells are solid hitters in the 3-4 spots, but otherwise, not much that is notable. Travis Snider's progression will be interesting to watch this year as he gets his first chance at a full time job. Adam Lind also needs to become a presence in the 5 spot, protected Wells and Rios.
Starting Rotation w/ Closer
RH Roy Halladay (20-11 2.78 ERA)
RH Jesse Litsch (13-9 3.58 ERA)
LH David Purcey (3-6 5.54 ERA)
RH Casey Janssen (2-3 2.35 ERA)
RH Scott Richmond (1-3 4.00 ERA)
CP B.J. Ryan (2-4 2.95 ERA 32 of 36 save opportunities)
I admit I don't know too much about this rotation other than Roy Halladay and upstart Jesse Litsch. Purcey and Janssen are names I heard of but Richmond doesn't really ring a bell to me. Any Blue Jays fans that can help me out, please do so. B.J. Ryan's a solid closer and should be once again for 2009. Shaun Marcum and Dustin McGowan will surely be missed as Marcum is out for the year and McGowan won't return until at least May and could be as late as August.




Baltimore Orioles - The Orioles maintain much of their position players from last year as they each gain a year of experience, though the pitching is different. Jeremy Guthrie will once again be impressive as the Baltimore ace anchoring a weak rotation. We may get to see the much anticipated debut of Matt Wieters.
Projected Lineup
2B Brian Roberts (.296 AVG 9 HR 57 RBI)
3B Melvin Mora (.285 AVG 23 HR 104 RBI)
RF Nick Markakis (.306 AVG 20 HR 87 RBI)
1B Aubrey Huff (.304 AVG 32 HR 108 RBI)
CF Adam Jones (.270 AVG 9 HR 57 RBI)
DH Luke Scott (.257 AVG 23 HR 65 RBI)
C Gregg Zaun (.237 AVG 6 HR 30 RBI)
SS Cesar Izturis (.263 AVG 1 HR 24 RBI)
LF Felix Pie (.241 AVG 1 HR 10 RBI)
The top of the lineup is fairly decent w/ Aubrey Huff coming off a great second half of last year. The bottom of the linup seems pretty weak, but there's still a little potential w/ Felix Pie. Roberts will continue to be a spark plug, getting on base and providing speed for Markakis and Huff. Adam Jones looks like has plenty of potential, having a fairly decent year last year.
Starting Rotation w/ Closer
RH Jeremy Guthrie (10-12 3.63 ERA)
RH Koji Uehara (6-5 3.81 for Yomiuri Giants)
LH Rich Hill (1-0 4.12 ERA)
LH Mark Hendrickson (7-8 5.45 ERA)
RH Radhames Liz (6-6 6.72 ERA)
CP George Sherrill (3-5 4.73 ERA 31 of 37 save opportunities)
The rotation isn't very good. When you have walk-o-matic Rich Hill in the 3 spot, you know you have some pitching troubles and are just reaching. Guthrie is really the only bright spot of this rotation with UeHara in his rookie year and a chance to impress. Sherrill turned out to be a decent closing option and will be the closer despite the return of Chris Ray.


AL Central
Minnesota Twins - The Twins added an offensive third basemen which may help them win the AL Central crown as Joe Crede joins a young bunch who play the fundamentals well. The young Twins rotation looks to improve as they gain a year of experience in the league.

Projected Lineup
LF Denard Span (.294 AVG 6 HR 47 RBI)
2B Alexi Casilla (.281 AVG 7 HR 50 RBI)
C Joe Mauer (.328 AVG 9 HR 85 RBI)
1B Justin Morneau (.300 AVG 23 HR 129 RBI)
RF Michael Cuddyer (.249 AVG 3 HR 36 RBI)
DH Jason Kubel (.272 AVG 20 HR 78 RBI)
3B Joe Crede (.248 AVG 17 HR 55 RBI)
SS Nick Punto (.284 AVG 2 HR 28 RBI)
CF Carlos Gomez (.258 AVG 7 HR 59 RBI)

A decent enough lineup mixing speed and power. Gardenhire's small ball strategy definitely works out for this type of lineup, giving many RBI opportunities to guys like Morneau and Mauer. This lineup has an almost perennial MVP candidate in Justin Morneau (who should have had his 2nd MVP last year). The Twins will be looking for Michael Cuddyer to return back to his 2007 form.

Pitching Rotation
RH Scott Baker (11-4 3.45 ERA)
LH Francisco Liriano (6-4 3.91 ERA)
RH Kevin Slowey (12-11 3.99 ERA)
LH Glen Perkins (12-4 4.41 ERA)
RH Nick Blackburn (11-11 4.05 ERA)
CP Joe Nathan (1-2 1.33 ERA 39 of 45 in save opportunities)

A nice, young rotation who are very likely to get the job done once again in Minnesota. Not one of these pitchers is completely dominant, though Liriano has the potential to be in the very near future as he continues to recover from his arm injury. Joe Nathan is considered one of the best closers in the league right now.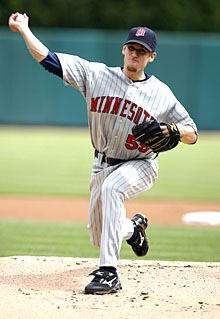 Cleveland Indians - The Indians made plenty of moves in the off-season, one of them gaining versatile Mark DeRosa and also the signing of Kerry Wood. Shin-Soo Choo made nice strides late in the year last year. The rotation is still a little questionable with Cliff Lee and Fausto Carmona heading it, but the pitchers behind them may not be as reliable.

Projected Lineup
CF Grady Sizemore (.268 AVG 33 HR 90 RBI)
3B Mark DeRosa (.285 AVG 25 HR 87 RBI)
C Victor Martinez (.278 AVG 2 HR 35 RBI)
DH Travis Hafner (.197 AVG 5 HR 24 RBI)
SS Jhonny Peralta (.276 AVG 23 HR 89 RBI)
RF Shin-Soo Choo (.309 AVG 14 HR 66 RBI)
1B Ryan Garko (.273 AVG 14 HR 90 RBI)
LF Ben Francisco (.266 AVG 15 HR 54 RBI)
2B Asdrubal Cabrera (.259 AVG 6 HR 47 RBI)

Sizemore's role in this lineup reminds me a little of Soriano's role in the Cubs' lineup. Sizemore has the speed, hits for nice 30 HR power, but may not get on base as much as you would like for the hitters behind him, Martinez and Hafner in this case. Though it might not matter if Hafner continues to struggle as much as he has. Choo will look to continue his success from last year.

Pitching Rotation
LH Cliff Lee (22-3 2.54 ERA)
RH Fausto Carmona (8-7 5.44 ERA)
RH Carl Pavano (4-2 5.77 ERA)
RH Anthony Reyes (4-2 2.76 ERA in 16 appearances)
LH Aaron Laffey (5-7 4.23 ERA)
CP Kerry Wood (5-4 3.26 ERA 34 of 40 save opportunities)

The addition of Kerry Wood was huge for the Indians as they've sorely needed a consistent closer. This rotation doesn't look that great stat wise, but the talent is there. Cleveland will largely need to bank on Pavano not getting injured again and for Lee to get at least close to the success of last year, though the exact same performance isn't a reasonable expectation.


Detroit Tigers - I don't see Detroit being as bad as they were last year, but they won't be the best in the AL Central. The emergence of Armando Galarraga was a nice surprise as he and Justin Verlander will head the rotation. Fernando Rodney and Joel Zumaya need to stay healthy in the bullpen.

Projected Lineup
CF Curtis Granderson (.280 AVG 22 HR 66 RBI)
2B Placido Polanco (.307 AVG 8 HR 58 RBI)
RF Magglio Ordonez (.317 AVG 21 HR 103 RBI)
1B Miguel Cabrera (.292 AVG 37 HR 127 RBI)
LF Carlos Guillen (.286 AVG 10 HR 54 RBI)
DH Gary Sheffield (.225 AVG 19 HR 57 RBI)
C Gerald Laird (.276 AVG 6 HR 41 RBI)
3B Brandon Inge (.205 AVG 11 HR 51 RBI)
SS Adam Everett (.213 AVG 2 HR 20 RBI)

This is still a good lineup, despite the fact Sheffield is aging and Everett is mainly starting because of defense. Ordonez and Cabrera have decent power and are big time RBI men, which is great because Granderson and Polanco both have the ability to get on base. The always versatile Carlos Guillen is a valuable commodity in this Tigers lineup.

Pitching Rotation
RH Justin Verlander (11-17 4.84 ERA)
RH Armando Galarraga (13-7 3.73 ERA)
RH Jeremy Bonderman (3-4 4.29 ERA)
RH Edwin Jackson (14-11 4.42 ERA)
LH Dontrelle Willis (0-2 9.38 ERA in Majors, 3-1 4.45 ERA in AAA)
CP Brandon Lyon (3-5 4.70 ERA 26 of 31 save opportunities)

The addition of Edwin Jackson doesn't help this ailing rotation too much, though he did have his best year last year w/ Tampa Bay. Verlander and Willis need to return to their once great and dominant forms while Armando Galarraga needs to continue and build off the success from last year. Brandon Lyon has a tough role to fill w/ Todd Jones now gone.



Chicago White Sox - Last year's victors of the AL Central look to be facing some tough times in 2009. John Danks and Gavin Floyd were nice surprises, but can they keep it up? Jermaine Dye also as he gets older. The center field and third base positions look uneasy as the South Siders need someone to step up at each position.

Projected Lineup
CF Dewayne Wise (.248 AVG 6 HR 14 RBI)
C A.J. Pierzynski (.281 AVG 13 HR 60 RBI)
LF Carlos Quentin (.288 AVG 36 HR 100 RBI)
DH Jim Thome (.245 AVG 34 HR 90 RBI)
RF Jermaine Dye (.292 AVG 34 HR 96 RBI)
1B Paul Konerko (.240 AVG 22 HR 62 RBI)
SS Alexei Ramirez (.290 AVG 21 HR 77 RBI)
3B Josh D. Fields (.156 AVG 0 HR 2 RBI in 14 MLB games, .246 AVG 10 HR 35 RBI in 75 AAA games)
2B Chris Getz (.302 AVG 11 HR 52 RBI in 111 AAA games)

A power filled lineup that may take a step back as Jim Thome and Jermaine Dye continue to age. The young players at the bottom of the order really need to step up as Joe Crede and Juan Uribe are both gone. Alexei Ramirez had a good year last year and will look to continue that same success.

Pitching Rotation
LH Mark Buehrle (15-12 3.79 ERA)
RH Gavin Floyd (17-8 3.84 ERA)
LH John Danks (12-9 3.32 ERA)
RH Bartolo Colon (4-2 3.92 ERA)
LH Clayton Richard (2-5 6.04 in 13 MLB appearances, 6-6 2.47 ERA in 13 AA starts)
CP Bobby Jenks (3-1 2.63 ERA 30 of 34 save opportunities)

This rotation needs to continue the success they had last year. Clayton Richard also needs to step up and try to forget his 2008 MLB season. Gavin Floyd and John Danks were nice surprises last year and will be hoping to do the same as they did last year. Buehrle has been a consistent pitcher for the Sox.


Kansas City Royals - Alex Gordon and Billy Butler need to become the players they were projected as when they came into the league. Much of the question marks are within the pitching though as after Zack Greinke and Gil Meche, it doesn't look good. Brian Bannister or Luke Hochevar really need to step up.

Projected Lineup
CF Coco Crisp (.283 AVG 7 HR 41 RBI)
SS Mike Aviles (.325 AVG 10 HR 51 RBI)
LF David DeJesus (.307 AVG 12 HR 73 RBI)
RF Jose Guillen (.264 AVG 20 HR 97 RBI)
1B Mike Jacobs (.247 AVG 32 HR 93 RBI)
DH Billy Butler (.275 AVG 11 HR 55 RBI)
3B Alex Gordon (.260 AVG 16 HR 59 RBI)
C Miguel Olivo (.255 AVG 12 HR 51 RBI)
2B Alberto Callaspo (.305 AVG 0 HR 16 RBI)

This lineup definitely has some power potential in Mike Jacobs, Billy Butler, and Alex Gordon, but all 3 will have to step up w/ Jacobs hopefully continuing the power success he had last year. Mike Aviles was a pleasant surprise for the Royals as they try and continue to fit pieces into a young puzzle.

Pitching Rotation
RH Gil Meche (14-11 3.98 ERA)
RH Zack Greinke (13-10 3.47 ERA)
RH Kyle Davies (9-7 4.06 ERA)
LH Horacio Ramirez (1-4 4.34 ERA)
RH Brian Bannister (9-16 5.76 ERA)
CP Joakim Soria (2-3 1.60 ERA 42 of 45 save opportunities)

Gil Meche and Zack Greinke are great pitchers w/ Meche proving he is worth his contract. Bannister is a young pitcher hoping to gain some success after starting out well last year and ending terribly. Joakim Soria is probably the best young closer in the league and quietly had 42 saves last year.


AL West
Los Angeles Angels - The Angels lost a big part of their offense in Mark Teixeira, but still have Vladamir Guerrero and have added Bobby Abreu. Francisco Rodriguez is gone, but Brian Fuentes is replacing him and Scott Shields will continue to dominate the setup role. The rotation is missing Jon Garland as Dustin Moseley will try to fill his shoes.
Oakland Athletics - The addition of Matt Holliday was key this off-season for the A's as they'll definitely close the gap w/ the Angels. The starting rotation may be what will hold Oakland back though w/ Justin Duchscherer leading a group of young arms ready to prove themselves.
Texas Rangers - Much like last year, this team will be all offense and basically no pitching. The young players in the rotation and also on the field will need to step up to make the Rangers a contender. Guys like Elvis Andrus, Matt Harrison, Scott Feldman, Brandon McCarthy.
Seattle Mariners - The M's are in a rebuilding year, just look at their lineup. The rotation looks dynamic with Felix Hernandez, Erik Bedard, and Brandon Morrow at the top of it. It'll be interesting to see how some of the young players will respond as they'll get an opportunity to prove their worth.
AL Wild Card
Tampa Bay Rays
Cleveland Indians
Detroit Tigers
Oakland Athletics
NL East
New York Mets - You got to believe that this time around, the Mets won't be blowing big leads with J.J. Putz and K-Rod added to the bullpen. The lineup will be very similar to last year's as well as the rotation. Mike Pelfrey may have finally realized his full potential.
Philadelphia Phillies - The defending World Series champs may be looking up to the Mets this year. There's no denying they have an explosive offense w/ Jimmy Rollins, Ryan Howard, and Chase Utley in the middle of it all. The rotation is the slight weakness on this team with Cole Hamels as the ace (and rightfully so).
Atlanta Braves - This Braves team has the potential to be dangerous. Fairly young as some rookies will get their chances like Josh Anderson and maybe Tommy Hanson later on in the season? I applaud the additions of Derek Lowe and Javier Vazquez to bolster their rotation. Watch out, Atlanta may sneak ahead of Philly or New York.
Washington Nationals - Oh no I didn't, actually, yes I did. I really didn't like the Marlins' off-season moves and I liked much of the Nationals'. Adding Josh Willingham will be more beneficial than some may think as well as Scott Olsen and Adam Dunn. John Lannan is coming off a terrific first full year for Washington to head a semi-weak rotation. This is just a surprise pick, not much behind it.
Florida Marlins - This team has plenty of potential, but a lot of players will really have to step up this year including Gaby Sanchez and Cameron Maybin. The rotation is fairly talented and young, but Andrew Miller will need to improve and Chris Volstad will need to pitch much like he did last year.
NL Central
Chicago Cubs - Coming off another disappointing exit in the playoffs last year, Jim Hendry made some off-season moves, eventually signing Milton Bradley while losing Jason Marquis and Mark DeRosa. The Cubs will look to have more regular season success and translate it to the playoffs.
St. Louis Cardinals - I didn't really like the Cardinals' off-season either, but there's no denying Tony LaRussa gets the job done. Todd Wellemeyer and Kyle Lohse will need to continue overachieving while Adam Wainwright and Chris Carpenter need to stay healthy.
Milwaukee Brewers - Despite losing CC Sabathia and Ben Sheets, the Brewers are still a very talented team w/ an explosive offense. Yovani Gallardo will look to lead the Milwaukee rotation after a "freak injury" (I'll take your word for it Brew Crew fans) ended his year early last year.
Cincinnati Reds - We're still waiting for the youngsters on this team to emerge. Jay Bruce was impressive during his first few weeks in the league, but slowed down after awhile. Edinson Volquez is a great pitcher as this rotation looks fairly impressive, Aaron Harang coming back from injury w/ Bronsen Arroyo, Micah Owings, and Johnny Cueto rounding it out.
Houston Astros - Teams 2-5 could be flip-flopped in many ways, with Houston being the silent hunters. They were impressive to finish the year last year, showing much of their resilliency. The rotation may be a trouble spot, but that didn't really stop them last year.
Pittsburgh Pirates - Quite possibly the worst team in the majors right now, the Pirates did next to nothing during the off-season. The rotation is fair as youth is still prevelant. There are bright spots, but don't look for much improvement if any at all for Pittsburgh.
NL West
Los Angeles Dodgers - Even without Manny, the Dodgers are probably the best team in the NL West at this point in time. Jonathan Broxton is ready to close games as the rotation looks fair coming into the season. Matt Kemp, Andre Ethier, and James Loney made some nice strides, especially during the playoffs.
San Francisco Giants - The Giants may have a chance to contend with the Dodgers, that is if they can get some hitting. Bengie Molina, Fred Lewis as potential cleanup hitters? Yikes. The rotation, though, is very good, w/ Cy Young Award winner last year Tim Lincecum being the ace.
Colorado Rockies - They lost Matt Holliday, but the Rockies will still have the Coors hitting advantage. Garrett Atkins and Brad Hawpe will continue to hit well in the mountain air. Troy Tulowitzki will be back. The rotation might be nasty. After Ubaldo Jimenez, who really came along at the end of 2008, it's Jason Marquis, Jorge De La Rosa, and Greg Smith. They have talent and youth, let's just wait and see.
Arizona Diamondbacks - This team just fell apart after a great 2008 start and really didn't do much in the off-season. Brandon Webb is still there along with Dan Haren, but not too much more after that. There is plenty of youth with Mark Reynolds, Stephen Drew, and Justin Upton, so they may come along soon.
San Diego Padres - It might be an ugly year for the Padres. The Jake Peavy sweepstakes may be at a standstill for now, but he'll probably be gone by the trade deadline. This would be a great time for the young guys to step up like Chase Headley. Adrian Gonzalez may be the most underrated player in the league at this point in time.
NL Wild Card
Philadelphia Phillies
Atlanta Braves
St. Louis Cardinals
Milwaukee Brewers
Awards
AL MVP - Justin Morneau - Minnesota Twins
NL MVP - Albert Pujols - St. Louis Cardinals
AL Cy Young - Scott Kazmir - Tampa Bay Rays (may be a stretch, we'll see)
NL Cy Young - Cole Hamels - Philadelphia Phillies
AL Rookie of the Year - Matt Wieters - Baltimore Orioles
NL Rookie of the Year - Chris Dickerson - Cincinnati Reds
AL Manager of the Year - Ron Gardenhire - Minnesota Twins
NL Manager of the Year - Bruce Bochy - San Francisco Giants
Playoffs
ALDS : New York Yankees over Los Angeles Angels in 4
Minnesota Twins over Tampa Bay Rays in 5

ALCS: New York Yankees over Minnesota Twins in 6

NLDS: Chicago Cubs over Philadelphia Phillies in 5
New York Mets over Los Angeles Dodgers in 5

NLCS: Chicago Cubs over New York Mets in 6

World Series : Chicago Cubs over New York Yankees in 7
Yeah..I'm a homer
. This was put together quickly... I might change it if I think about it..
There ya go. Maybe some ridiculous predictions, maybe some safe. Either way, it'll be another fun year in baseball.