So the one secret to winning is....

By: Christopher Torola
That there is no one secret that works. I have heard every publication or pair of knuckleheads on a podcast touting everything from "Draft the Opposite" to "The Magic Formula". They also claim to have mathematic proof and historical data to prove that their method works... the trouble though is that "Draft the Opposite" tells me to always draft wide receivers and quarterbacks ahead of running backs so you have the pick of the litter at those positions, and "The Magic Formula" was basically telling me that I have to take as many running backs as I can start with my first picks, since they score the most points. If they both have proof that their systems work the best, how can they be the complete opposite strategies?
So I have decided to put my strategy right here on this blog, and may even claim that it is the only sure fire way to win... why not? Everyone else is doing it. The trouble is, I like to look at drafts in many different ways. You have to take into effect the different variables like, scoring system, league size, draft position, trends, possible injuries, the average barometric pressure and how they effect quarterback's passer ratings, and the other owner's temperament. Sadly, I don't actually have a system that will work with when taking all those variables into consideration... Instead, here is a list of some tips that have worked for me in the past.
- Watch for steep drops in talent on a given year and actually use tiers for the different positions. For example this year there seems to be a sharp drop in talent after both the first 4-5 running backs and the first 5-8 wide receivers. So if you are in a 12 team league, and you have the 12th and 13th picks in a snake draft, go ahead and take 2 WR or a WR and a QB.
Using the CBS average draft position or ADP: if you went with the top 2 RB's you would most like get 2 of - Chris Johnson ADP 11, Marion Barber III ADP 17, or Brian Westbrook ADP 18. With your next 2 picks, 36th and 37th, your QBs and WRs are the likes of Dwayne Bowe ADP 36, Kurt Warner ADP 37, Terrell Owens ADP 37, Wes Welker ADP 37, and Tony Romo ADP 39.
On the other hand, at 12th and 13th pick you can get WR and QBs like - Tom Brady ADP 12, Andre Johnson ADP 13, Randy Moss ADP 15, or Peyton Manning ADP 16. When it comes back around to picks 36 and 37 your available RBs are - Kevin Smith ADP 34, Larry Johnson ADP 40, Darren McFadden ADP 41 and Marshawn Lynch ADP 47.
Given these 2 options which team would you rather have after 4 picks? Team A - Marion Barber III, Brian Westbrook, Kurt Warner and Wes Welker or Team B - Andre Johnson, Peyton Manning, Larry Johnson and Darren McFadden? Need a hint? CBS projects Team A to score 847 total points and Team B to score 875 total points.

This works the same way for the running backs. If you have a top pick, you are going to want to take guys like Adrian Peterson, Matt Forte, and Maurice Jones-Drew. Say your favorite guy is Tom Brady and you have the number 3 pick. You know he won't be there when it gets back to you, but Phillip Rivers and Aaron Rodgers will be. If you take Brady with the 3rd pick, your RBs that make it back to you are in the class of Ryan Grant and Ronnie Brown. The difference between Brady's projected fantasy points - 325 and Phillip Rivers - 318, is 7 on the year. The difference between Matt Forte, 196, and Ronnie Brown, 154, is 42 fantasy points.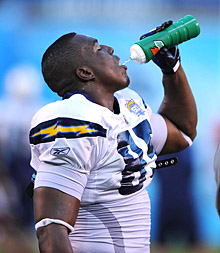 - Avoid joining player runs. This goes back to the tiers and drops in talents, but if in the 5th round of a 10 team league some one right after you takes Jason Witten, and before it gets back to you Antonio Gates, Dallas Clark, Tony Gonzalez, and Greg Olsen are taken as well. You could take Chris Cooley with your 6th round pick to make sure you get one of the better tight ends, trouble with that, is Cooley should be able to go another round or two before you need to get him. Instead you could take Chad Ochocinco, Matt Schaub, Jay Cutler or Santonio Holmes.
- Don't be afraid to start runs. In the last example it was good to be the guy the grabbed Jason Witten, just don't do it too early or it won't become a run, just a bad pick. If it works you got the best player at the position and forced everyone else to follow suit. This will generally only work with TEs and the mid-level QBs.
- Pay attention to draft averages and spot some underrated talent. Pick a couple guys to watch that look to out perform their average draft positions and target them. An example could be Cedric Benson. His ADP is 73rd and he is set to run the ball in with for the Bengals, a team that just lost T.J. Houshmandzadeh and does not have a RB by committee.
- Load up on proven commodities in the middle rounds. Its fun to pick guys who are about to break out, but it is hard to get it right. Knowshon Moreno and LenDale White are both being drafted around the 57th pick. It is true that Moreno could break out, but chances are better he won't. White on the other hand has been getting better year by year, and he was more than serviceable last year.
- Go Bill Belichick if you can get away with it. Anyone feel like trading draft picks? If you can find someone to take the 7th overall pick from you for their 2nd and 3rd round picks... go for it. Then see if you can trade one of your two 3rd round picks for a 4th and a 5th round pick. The way I see it, two 2nd rounders, a 3rd rounder, two 4th and 5th rounders are better then just one pick every round. Good luck pulling this off; however, its a good lesson to apply to auction leagues as well. Spread your money out on good wide outs and 2nd tier running backs, avoid the few huge dollar guys. Since I called it Belichicking, i guess you should also tape your competition doing mock drafts.
- Take chances in the later rounds. Ok you got all your starters drafted, even have a good back up QB, RB, and WR. Sure Isaac Bruce is still available, but why not take a rookie wide receiver. Bruce or a player like him would be o.k., but you will never want to start him, not even on a bye week. If you take a late chance you might end up with this years DeSean Jackson.
-Lastly, and most importantly, take your kicker with your last pick. Nothing more needs to be said about that.