Are the Twins slowing the maturation of Carlos Gomez by not sending him to AAA?



At only 22 years old Carlos Gomez has already shown he is an elite major league center fielder, where so far this year he has a pe

rfect fielding percentage. In his major league career he has more outfield assists then errors. He has also shown the ability to read the ball well off the bat and use his speed to track down hard to get to balls, making several highlight reel catches. He also has a cannon for an arm.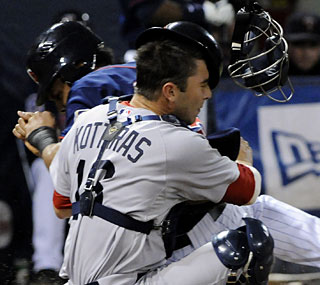 He is showing signs of having excellent base running skills, or at least the raw speed to bunt for base hits, take the extra base, and steal his way into scoring position. In a game against the Red Sox on Wednesday, he attempted to take home in the 7th inning and seeing that Boston catcher George Kottaras was blocking the plate ready to make the tag, Gomez lowered his shoulder and tried to run right through Kottaras. I am not sure how he held onto the ball, but it was great to see the young Twin playing such hard-nosed baseball. It reminded me a lot of former Twins center fielder Torii Hunter. Carlos Gomez has also been compared to A's great Ricky Henderson.
The problem however, is that he has not been able to hit for average at the major league level. Although he has already hit for the cycle in his young career, a sure sign of his raw talent, he has a career batting average of only .250 and a career on base percentage of under .300. So far this year he is hitting just .225, and that leads to the bigger problem...
With the emergence of Denard Span, hitting .317 on the year, Jason Kubel, hitting .340 on the year, and Michael Cuddyer hitting .330 with 7 home runs in May; there just hasn't been much playing time for Gomez. And what he needs is just that, more playing time. He has only started 25 games this year, several of which where as a result of Delmon Young being on bereavement leave for 9 days. Currently Gomez is being used mostly as a pinch runner and defensive replacement.
I believe that the future of the Twins outfield consists of Carlos Gomez, Denard Span, and Delmon Young. The Twins, in my opinion, would
be better served sending Gomez down to thier AAA affiliate, the Rochester Red Wings. That way he would get a chance to get a full slate of in game at bats, and continue to work on his excellent potential on the bases. He would then be able work on things like taking pitches and 2 strike hitting with out it costing the big club a win.
As a minor leaguer in the New York Mets system Gomez saw an improvement in batting average every year, at each level. In 2005 playing A ball he has a batting average of .275 and an on base percentage of .331. In 2006 playing AA ball those numbers jumped to a .281 AVG and a .350 OBP. When he played AAA for 36 games in 2007 he got his average up to .286 and his on base percentage to .363. It appears that with work and regular at bats Gomez has shown the ability to make improvements on hitting.
Hopefully the Twins will give their young outfielders all they will need to reach their full potential, because if these emerging stars continue to progress, the Minnesota outfield could be the envy of the bigs for years to come.