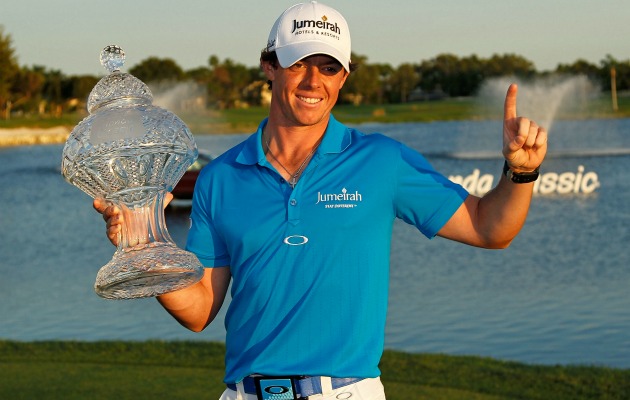 Rory McIlroy celebrates both his Honda Classic victory and becoming No. 1 in the world. (Getty Images)
By Shane Bacon

Two weeks ago, I got an e-mail from someone with Oakley asking if I'd be interested in heading out to the Honda Classic to check out their new line of apparel, spend some time with a few of their athletes, and, well, hang out "Oakley style."
Little did I know that their new line of gear is incredible, the athletes included soon-to-be world No. 1 Rory McIlroy and "Oakley style" basically means "become one of the family," so I accepted begrudgingly because I'd just spent three weeks traveling outside of the country, and frankly, I was tired.
But the trip was a success mainly because it allowed me to see a few things about the company and their newest star in Rory.
First off, Rory. You know from his game that he's a stud, but spending a little time with him, even from an observation deck, made it clear to me that he gets it, unlike a certain someone we media folks have dealt with for years and years. Rory spent time with media members, occasionally opening up his iPhone to show pictures, laughing along with a few of the guys and talking candidly. The few minutes I got to observe McIlroy in the flesh had me convinced that this was his week, and the tournament hadn't even started yet.
If you're in the media in any context you get your chance to be around athletes. Some are quiet and scared of what celebrity-ism brings. Others are loud and fun and enjoy the life of the party, knowing that their life is better than yours and occasionally showing you that with no regret. Then there are people like Rory. The quiet, confident assassin that at just 22-years-old makes you think he's 30, and with the demeanor and drive to not only be great, but to be historic. Winning in bunches this next decade is going to be tough, because the talent level is very even, but if you had to bet on one player to pull ahead of the rest, and claim four or five wins a year, Rory sure seems like that guy you should go all-in with. He carries that aura and doesn't mind it. He knows he's the star in a room full of players. He doesn't mind holding the torch, no matter the heat.
And the fact that Oakley signed him makes even more sense after you spend some time with their guys. A confident group by design, the sunglasses speak for themselves (one of the display had us shoot large BBs at the glasses at 140 MPH and they didn't penetrate which makes you feel a lot more confident when you have friends with the golfing abilities of my bunch), but it is their push into apparel that has everyone excited. The lightest golf shoe in the world. Designs that can go from a calm blue to a rainbow splash on displays right next to each other (and, btw, a golf jacket that comes out soon that has solved that "zip off your sleeves when it's raining but you're too warm" annoyance we've all encountered on the course).
Hanging with the boys over 18 holes of golf was, simply, comfortable. They want people to enjoy their products and feel like if McIlroy and others are sporting the stuff it must be the best, but these employees are just as much a part of the Oakley culture as the celebrities they pay seven figures to.
How was the experience at PGA National? Incredible, but not in a corporate way. It was incredible because it was a group of people inviting you, accepting you, and having a good time with you, occasionally showing you why they are in the golf business to stay but mostly just showing you that the group understands a mantra most don't; work should be fun, and fun it is.
A meet-and-greet with McIlroy is a special thing, but standing back and watching how he can light up a room is exciting.
The kid has "historic" written all over him, and there is a reason the letter "O" is in that word.