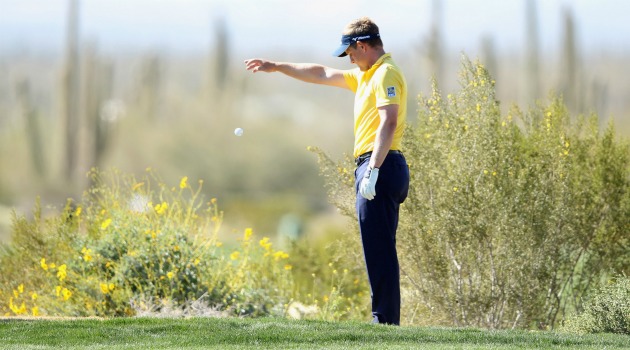 Luke Donald takes a drop during his match against Ernie Els. (Getty Images)
By Shane Bacon

Unlike March Madness, the Accenture Match Play is easily the biggest toss up in sports. Rankings? They're meaningless, and anything can happen. That said, we give you our five biggest upsets of the first round of play.
Ernie Els defeats Luke Donald -- It wasn't that Donald was a top seed and Els came in the rugged vet holding a 16 seed, but it was a guy most had forgotten about beating the defending champion and world number one in the world! Els played great, and could definitely make a run here after gaining some confidence by smoking past Donald 5 and 4.
Miguel Angel-Jimenez defeats Sergio Garcia -- Most thought Sergio, coming off a final round 64 at Riviera to tower up the leaderboard, would be a good pick to possibly upset Rory McIlroy in their side of the draw, but he couldn't even get out of the first round, falling to his fellow Spaniard. The bright side of things? At least his blue shoes looked good.
David Toms defeats Rickie Fowler -- No, the seeds weren't far apart (No. 8 vs. No. 9), but Toms openly admitted he hasn't spent much time on his golf game. That didn't stop him from taking out fan-favorite Fowler 1-up and giving himself a shot at Martin Kaymer in the next round.
Ryo Ishikawa defeats Bill Haas -- It isn't easy coming to an event like this after a gutsy win like Haas had last week, but it seemed like he'd roll Ishikawa after being 3-up with five holes to play. Ryo won four of the next five holes and advanced in the one PGA Tour event he seems the most comfortable in.
Sang-Moon Bae defeats Ian Poulter -- There aren't a lot of guys you'd call match play specialists, but Poulter is one of them, so to have him fall to such an unknown like Bae is a head-scratcher.
For more golf news, rumors and analysis, follow Shane Bacon and Eye On Golf on Twitter.