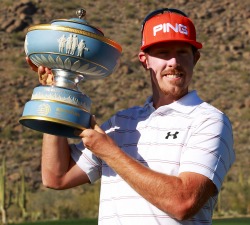 Hunter Mahan showcases his newest hardware. (Getty Images)
By Shane Bacon

Golf is probably the hardest sport in the world to play, and play well, so it makes total sense that everyone is a critic, and that's what we're going to do here at Monday Morning Swing Coach. Cover just the PGA Tour? Nope. We're going to try to expand this Monday feature to anything and everything that happened the past weekend.
A Mahan masterpiece or a McIlroy mulligan?
The crazy thing about match play format is the fact that a lot of the times you don't get the best "TV matchup" when you get down to the final four players. We hardly ever get the two best players in the world going against each other, and a lot of the times one of the people in the finals isn't exactly warranting views, but it was a nice surprise when Rory McIlroy and Hunter Mahan ended up being the final two men standing in Marana.
Mahan is a talented American who has always been a golfer to watch, and has had marginal success on the PGA Tour. McIlroy, of course, is Tiger 2.0, a kid with curly hair, a desirable golf swing and the swagger to become the best at a very young age.
And while we didn't really pick this as one of our hopeful matches to begin the week, it was definitely satisfying. Mahan had played some of the best golf heading into the finals and McIlroy was searching for something that would have made all the headlines if it happened. But did it turn out to be Mahan's victory of Rory's defeat?
McIlroy admitted after his finals loss that grinding out a win against Lee Westwood in the semifinals might have taken more out of him than he initially thought possible, but I'm not so much into buying that as I am to think that he simply got beat by a guy playing better golf.
Mahan seemed to keep hitting the shot he needed at the right time, rolled in some clutch putts and would have beat McIlroy even worse if not for a nasty lip-out on the 16th green. Rory is the type of player that could go on Tiger-like runs with his game, but it sure doesn't seem like he's there quite yet.
For now, we can all enjoy the fact that an American with an equally impressive golf swing and flat-brimmed custom caps took down an incredible field and did it on his own terms.
McIlroy will have his chance to win this tournament when he's ready. For now, Mahan notched his third PGA Tour win in as many years, and second World Golf Championships trophy.
The Question Mark rookie
There is something incredibly brilliant about a good nickname in sports, and a rookie that outlasted a tour vet in an eight-hole playoff at the Mayakoba Classic might have the best nickname of them all.
John Huh is a big-time player, and in his fifth career PGA Tour event, won after Robert Allenby did just about everything in his power to give Johnny Question Mark the event before a playoff even ensued.
Allenby had a two-shot lead standing on the 18th tee, but knowing that it's 2012 and no lead is safe, hit driver into the trees and carded a double-bogey.
Ten holes later, Huh was the champion and Allenby was left wondering how the heck he didn't get his first PGA Tour win since 2001.
Note to just about everyone with a big lead on the final hole; it's okay to hit an iron off the tee. Nobody is going to make fun of the way you win if you win. Anything goes if it means you leave with the trophy.
One Last Tiger Note
I got a lot of messages from people that mentioned something about Tiger Woods not really looking into his matches this week at the Accenture. A few people mentioned that it almost seemed like he was just working on some stuff and getting ready for this week's Honda Classic.
But in our Tiger Vernacular Handbook, wouldn't that go against everything he has ever said when he talks about playing? He stays true to certain phrases, and "coming here to win" is one of his favorites. If he has some things to work on, that's fine, but I don't think Tiger is heading to a big event like the Accenture in hopes of practicing and "finding" something for the next week's event.

That isn't Tiger, and I'd be surprised if he believed that is the way to go about things.

For more golf news, rumors and analysis, follow Shane Bacon and Eye On Golf on Twitter.