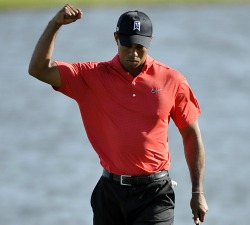 Tiger Woods reacts to his eagle on the 18th green at the Honda Classic. (Getty Images)
By Shane Bacon

The 2012 PGA Tour season has been absolutely nutty good, and we haven't even had the first major yet. But how good? Check out some of the finishes we've had in just 10 events.
Farmers Insurance Open: Maybe not exactly the way you'd want to win, but the Kyle Stanley collapse at Torrey Pines is definitely a moment you won't soon forget, and gave us our first "Is this really happening" moment of 2012. Brandt Snedeker's reaction and eventual win will be forgotten here much like Paul Lawrie at Carnoustie, but is paved the way for collapses early in the season.
Waste Management Open: This one was great for so many reasons. You had Stanley bouncing back to win a week after the collapse you read about above. You had Spencer Levin leading by six shots heading into the final round and by seven shots after his first hole on Sunday only to fall apart. Oh, and you had the biggest crowd in the history of the TPC Scottsdale event.
AT&T Pebble Beach National Pro-Am: Probably the one you'll remember out of all the '12 events so far, with Phil Mickelson coming back against Tiger Woods with that sizzling 64.
Northern Trust Open: Just the fourth tournament in a row that had scream-at-your-TV moments. Bill Haas was the eventual winner, but the birdie putts Mickelson and Keegan Bradley made back-to-back to join Haas in the playoff were so incredible it made this guy do whatever the heck that is.
Mayakoba Golf Classic: It went up against the Accenture so not as many people noticed, but a rookie named John Huh won in an eight hole playoff.
The Honda Classic: You already know, but Tiger posting a 62 on Sunday was only the second coolest thing that happened just behind Rory McIlroy simultaneously winning his first PGA Tour event of the year and becoming world number one for the first time in his young career.
Check out the new Eye on Golf Facebook page and follow Shane Bacon and Eye On Golf on Twitter.