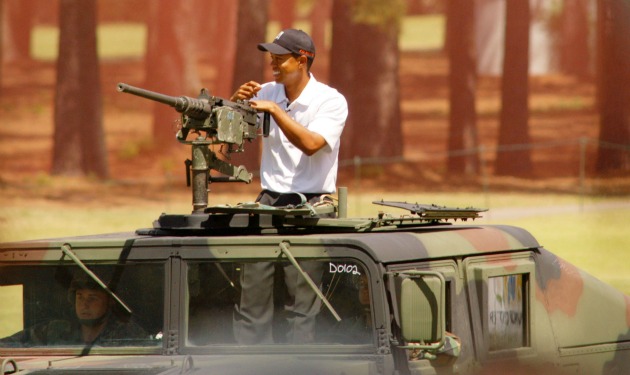 Tiger Woods spends time at Fort Bragg in 2004. (Getty Images)
By Shane Bacon

Just when we thought the Navy SEALS story about Tiger Woods was dead, GolfDigest.com revealed even more from the upcoming Hank Haney book and it's even more intense than you think.
"The Big Miss" is the upcoming Haney account of his time with Tiger, and while the book hasn't hit the stores yet, pieces keep leaking and it just gets juicier and juicer.
So we know that Tiger thought about becoming a Navy SEAL, but how intense was he? According to the book, incredibly. Tiger went on multiple training sessions with the SEALS, and even did a three-day parachute training session just 18 days before the 2006 U.S. Open, which prompted the following e-mail from Haney to Woods.
With the U.S. Open 18 days away, do you think it was a good idea to go on a Navy SEALs mission? You need to get that whole SEALs thing out of your system and stick to playing Navy SEAL on the video games. I can tell by the way you are talking and acting that you still want to become a Navy SEAL. Man, are you crazy? You have history to make in golf and people to influence and help. Focus on your destiny, and that isn't flushing bad guys out of buildings in Iraq. Just play the video games some more. That Navy SEAL stuff is serious business. They use real bullets.
The four page excerpt on GolfDigest.com has even more about his infatuation with the SEALS, saying Tiger went as far as to play SEALS-based video games for days on end and even told Haney they'd make an age-exception for him if he wanted to join, but your best bet is to head over to their site and read the whole thing for yourself.
Tiger might have dismissed questions about this last week, but the more information that comes out, the more he's going to get the random reporter wondering just how far he was willing to take this idea before he finally snubbed it.
Check out the Eye on Golf Facebook page and follow Shane Bacon and Eye On Golf on Twitter.