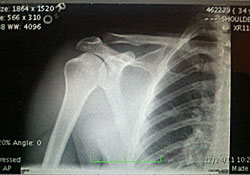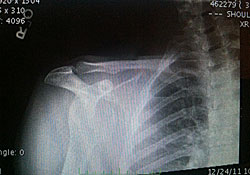 Paul Casey dislocated his shoulder on Christmas Eve which delayed the start of his 2012 season.

By Steve Elling
DORAL, Fla. -- Paul Casey knew the photo would induce oohs and ahs.
On the sideline since Christmas Eve with a dislocated shoulder, the first photograph the former world No. 3 revealed on his cellphone showed a large, red blob in the middle of the picture, prompting at least one cringe among the scribes within viewing distance.
Then again, actual injury X-rays he produced a moment later were even harder to eyeball.
Back from a lengthy layoff after sustaining a shoulder injury while snowboarding in Vail on Dec. 24, Casey is making his first start of the year this week at the Cadillac Championship at Doral Golf Resort & Spa.
Unlike the first photo he produced on his phone -- a funny photo of himself dressed in a large, red Teletubby costume -- the reality of his situation is pretty black-and-white, just like the X-rays he produced with a few more flicks of the thumb. He's missed about 20 percent of his traditional season, was unable to defend a title he won on the European Tour, and has played one full 18-hole round since the injury.
"I think my expectations are fairly low," Casey said, laughing.
Finally close to full strength, at around 90 percent in the affected right shoulder, he's got to catch up with the rest of his ever-evolving peers. For the first time, during the layoff, he's been watching golf on TV -- and it's been some of the most exciting stuff on the PGA Tour in years.
"It was inspiring to watch," said Casey, 34. "It lit something, to get back to where I was before or even better."
It's amazing how much can change in the blink of an eye. When Casey, wearing wrist protection and a helmet, slipped on some ice while taking a snowboarding lesson, Luke Donald was entrenched as No. 1. He's since been supplanted by Rory McIlroy, while Phil Mickelson and Tiger Woods seems to be rounding back into top form, too.
"I've done it long enough to know that there's always new, fresh faces, and it's moving," Casey said. "You're right, it's moving very, very quickly. But ultimately it's myself against the golf course."
If not his ... doctor? While explaining his shoulder injury, Casey actually said, "I'm not an expert at injuries," with a straight face. In actuality, he's had lingering problems over the past three years with an intercostal injury to his ribcage and painful turf toe on his right foot. All three maladies have forced him to miss multiple starts in the prime of his career.
"I'm clearly the freshest guy out here," he cracked.
Casey hasn't suffered much in the grand scheme, dropping to 26th in the world ranking, but there's another ledger out there where he's really behind the pack -- the race for the European Ryder Cup team later this year in Chicago. It's not much of stretch to characterize his points total as, "nothing," as Casey put it.
Cadillac Championship
More Golf coverage
It's not quite that dire. The European team is composed from two points lists, and Casey is ranked 19th and 41st, with plenty of time to move up if he can play his projected 25-tournament schedule. For starters, he's playing three of the next four weeks, including the Masters. He's also playing at Houston, where he picked up a victory two years ago.
He didn't qualify for the team two years ago in Wales and was passed over as a captain's pick.
"I don't think it adds any urgency or any pressure," Casey said. "I would love to make that team. I want to make that team. I think I will make that team. I've just got to play the golf I know I'm capable of and start winning tournaments and that will take care of itself."
On the plus side, he hasn't missed any majors, so there's plenty of points and cash up for grabs. Casey surely sounds like a gung-ho, motivated man, that's for sure. Now, if he can just chip away the rust.
"I've got an awful lot of work to do, but if the body -- if I just stay off the snowboard -- then there's no reason why I can't get that work done and get the golf game back to where I was in 2006 or better," he said.
As for the X-rays, the two shots are of Casey's shoulder before and after his right arm was popped back into place. When it was dislocated, it was actually handing several inches lower than his left arm.

Check out the Eye on Golf Facebook page and follow Eye On Golf on Twitter.