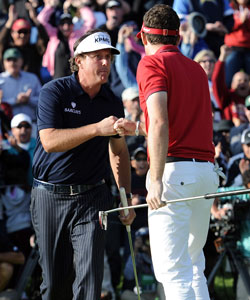 Phil Mickelson celebrates his birdie on the 18th hole this past weekend with Keegan Bradley. (Getty Images)
By Shane Bacon

Golf is probably the hardest sport in the world to play, and play well, so it makes total sense that everyone is a critic, and that's what we're going to do here at Monday Morning Swing Coach. Cover just the PGA Tour? Nope. We're going to try to expand this Monday feature to anything and everything that happened the past weekend.
Who needed Sunday's playoff win the most?
Sunday at Riviera, the 2012 PGA Tour season continued its incredible start by pitting three big names in a playoff most thought wouldn't happen after second shots from the final group found the 72nd green.
Phil Mickelson and Keegan Bradley brought major-like intensity when they both drained improbable putts to force a playoff against already-clubhoused Bill Haas, the eventual winner when he cashed a similar crazy birdie putt on the second playoff hole.
So we know Haas won, Mickelson and Bradley lost, but looking back, who needed the win more?
Why not start with the champion. Haas is one of those quiet players you just know is good. No matter if at times he gets down on his own game, we've seen him pull off shots in his last two wins that could make a career, and any son of a PGA Tour star always has that monkey on his back to beat the legacy of his dad.
Haas needed the win because he keeps winning. This is his third consecutive year with a PGA Tour title, and he did it quietly against the hottest golfer to date (yes, that would be Mickelson, who ran away with Pebble and looked like he'd go back-to-back if not for some shaky putting to end his Sunday round) and a young guy who just doesn't seem like he will be a flash in the pan.

I think Haas needed to win that just to show people that he is damn good. Like, "One of the Best Players on Tour" good. He can and most likely will win a major. He could win three times a season and you wouldn't be shocked. He showed Sunday that no matter the competition, if he sticks to his game, things turn out well.
Now we turn our focus to Phil. It was a strange week for Mickelson. He started out hot. Needed some eagle magic to keep his charge at back-to-back wins going, and decided at the most critical time in the tournament to forget the speed of the quick Riviera greens (three putts on No. 14 and 15 and a birdie putt on 17 that was dead center but a roll short).
Mickelson doesn't really need any more regular-season PGA Tour wins. If he wins, awesome. Free fuel for the 'copter. More sunglasses for the wife. More ridiculous animal-skinned belts to loop around his belly. I think Phil exits these tournaments either happy or sad, and winning isn't exactly what does that for him.
His reaction when Bradley matched his birdie on the final hole of regulation shows why he has so many fans. He was so pumped up when he dropped his 30-footer (honestly, the most excited he has ever been on a golf course? I think the walking fist pump was more exclamatory than his horizontal jump at the Masters), but to go over and high-five Bradley after his answered? That was great stuff. For Phil, the only thing that is going to get his legacy deeper is majors, but it would have been fun to see him go back-to-back. That said, he is still in great shape to be the favorite at Augusta, and should be if he continues this.
No, the answer to my question is Bradley. Yes, he has two PGA Tour wins and yes, one of those was a major, but I think if he would have pulled out this win on Sunday, against one of his idols and a really talented player in a tough playoff, it would have meant more to him than winning the PGA Championship. Yes, you can re-read that, it's true.
Winning the PGA was career-making. He will forever be a major winner. He gutted out some birdies when it counted. But I bet it takes you at least 15 seconds to think about who he beat in that playoff (got it yet? It was Jason Dufner, and that was just six months ago).
If Bradley's putt on the first playoff hole had just a little less speed, we'd be sitting here talking about a guy that has three wins in under a year and has been on tour for just 13 months. The kid is for real, and a win there would have been enormous for him going forward not just in 2012, but in the coming years after that.
Now, about all the other Bradley stuff ...
The dancing and spitting has to stop
I know that slow play has been a huge issue the last few years on the PGA Tour. During final rounds, Twitter is basically one big complaint about the pace of play by just about every golf writer out there (which, by the way, just makes complaining about it as annoying as the actual snail pace these guys go about it).
But Bradley's little diddy he does before shots, and the spitting routine he has adopted, is really getting under people's skin, and for good reason.
No, I'm not going to sit here and preach about it being a gentleman's game. Golf is a little different and still old school and that's why I think certain companies aimed at making it younger aren't ever going to work out (the golf money is older), but you can't take 17 practice swings before a shot and expect to get away with it.
Bradley is going to get the Sergio treatment soon if he keeps this up, and it has been going on for a WHILE now. He steps up ... stops ... realigns ... goes at the ball ... stops ... resets. It's agonizing to watch as a golf fan, just a step lower than when you watched Jean Van de Velde start taking his shoes off at the 1999 British Open.
The preshot routine needs to quiet down, but the spitting needs to go away now. It's unnecessary and makes him look like an immature kid.
Yani, Yani, Yani
I'm going to drop in Tweets of the Week here at MMSC when I see fit, and I think this one from LPGA's Jane Park says it all ...

Tseng is a machine, and how do you know she's a machine? Because she has reevaluated how she approaches the media after a year SHE WON 12 TOURNAMENTS WORLDWIDE! If I ever had 20 percent of that season I'd probably wear the same underwear to every tournament and she has figured out some ways to improve? Incredible.
Her win this week against a talented field shows that, and we should expect much of the same for the rest of 2012. Don't be shocked if she gets to 12 fairly late in the summer and piles on. We have seen women's golf dominated before by big names. I'm starting to think this could be the one that eclipses all those before.
And what I did this weekend ...
I was in New Zealand this weekend caddying for a friend of mine playing in the New Zealand Open, and while she played great considering she's coming back from a year off the tour because of a thumb surgery, it was our house guest that got me the most nervous.
Alison Walshe, a friend who played at the same college I attended, stayed with us and the entire week was a social experiment for me. It was the first time I could SEE in a person that they expected to succeed. All week she just looked like she had the thing in the bag, and this is coming from a girl that has never won on the Ladies European Tour or LPGA.
She played well the first round. Tied for the lead the second, and as we were finishing up our round on the front nine, Walshe was coming down 18 needing a birdie to possibly force a playoff (the eventual winner was in the fairway behind her, needing a birdie to get to 10-under and win outright).
I write about this because I finally get the nerves you see with tour wives and families when they're watching their loved one with a putt to win. One of the other caddies actually remarked about my pacing and fidgeting because I was so nervous for my friend, who hit an absolutely incredible chip (think Mickelson's second shot on the second playoff hole, only if the grass was muddy) to six feet and then rolled in the birdie putt to put herself in a position to get into a playoff.
Sure, Lindsey Wright made a lengthy birdie putt a few minutes later for the victory, but it was exciting and a new experience to see someone you know and care about go through the clutch motions and come out successful. I'm confident now you'll see Walshe holding a trophy before the year is over.

For more golf news, rumors and analysis, follow Shane Bacon and Steve Elling on Twitter.