This article is from OnlineSportsFanatic.com. I have copied/pasted it here because I know you guys probably have some good questions/feedback for the Mailbag.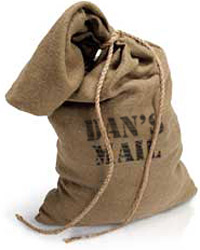 I've been wanting to start a NFL Mailbag for a long time now. It seemed like the right time to get one going, so I asked people to send me questions. I got some great questions, better than I ever expected to receive for my first mailbag, and enjoyed reading through them all.
To send questions for my next mailbag (which will be about a week from now, depending on when I get enough questions) email the question here or post it on the message board here .
From what I've read from Sports Illustrated's Peter King, the only guy on the planet lucky enough to get anywhere near close enough to Brady for an interview at this point, I think it's great. Brady learned early in the recovery process what would happen if he tried to do too much too soon. Setback after setback. Brady has taken the time he was asked to take and is now back fully at work. From what I understood he has absolutely no pain and is as good as new.
From the NFL standpoint of things I think its the best thing that can happen for the league. Brady is one of the classiest people in all of sports today and he's a great ambassador for the league.
I would like to ask what is the purpose of Roger Goodell's vision for the NFL with his proposals to expand the regular season , moving the Pro Bowl, having the Super Bowl in London? (Robbo24 -Yardbarker.com)
Goodell is always trying to improve upon his product and make it more appealing to other fanbases. In his opinion the best way to make the league even more popular than it already is is to change things. Personally I think that if it isn't broken, that you don't fix it.
By expanding the regular season the commissioner believes that it will get NFL fans talking about the season earlier than ever before. Only two preseason games would keep more star players on the field and make the starters actually play a little bit more in the restricted preseason. That's really what we all want to see isn't it? As many star players as possible, playing as deep into the season as possible.
Moving the Pro Bowl doesn't make a lot of sense to me. I'm completely against it. Goodell's take is that the Pro Bowl is forgotten about because it is a week after the Super Bowl, which is when we all turn off the football parts of our minds until the draft in April. Moving the Pro Bowl has pluses and minuses. Moving it would mean that it would get more viewers, but the players in the Super Bowl would not be eligible to play. By leaving it where it is every non injured player selected has no excuse to not play, other than losing in the Super Bowl.
Again, not to sound repetitive, but Goodell wants to keep things moving. I personally think he's overdoing the overseas football games a little bit. The two NFL football games in London have been successful for the league, but it doesn't mean we need to do something crazy like moving our nation's most Americanized sports championship game off of American soil. Goodell has dreams of the league expanding into other countries, but I don't even see that happening. At least not right now.
What is Rodger Goodell's vision for the NFL in the foreign markets? We have seen the NFL put preseason games, regular season games and now rumors of the playoffs or Super Bowl potentially going overseas. What countries would the NFL start in and where does it go from there? (Jaymz77-Yardbarker.com)

Goodell has enjoyed the feedback from European football fans so far. If the league keeps growing and expanding, like I'm sure it will, the commissioner wants to expand the league into a European country. This would likely mean a division just overseas. By doing this the league would become one of the few sports leagues that are popular worldwide, and the only American sport that is popular enough to claim franchises outside of North America.
As far as what countries the obvious first choice is England, which is where the two regular season games overseas have been played so far. After the United Kingdom it's really hard to pick another country that would get a good look from the NFL. England could probably field at least a couple of teams. Remember this is something that probably won't happen for a long long time. There's a lot more speculating still to be done.
Why do people hate on Dallas so much? (Monster-Yardbarker.com)
There are many reasons for this one.
First of all, have no doubts that the Dallas Cowboys are the New York Yankees of the NFL. Jerry Jones compares to Hank Steinbrenner because they both spend money to bring in star players. Yet neither team has been able to win a championship in recent years.
Next is that Dallas has had success in the past. Look at all the major sports. Most people dislike the already mentioned New York Yankees, Notre Dame football, Kentucky basketball, and the Los Angeles Lakers. That's because in their histories they have had a lot of success. That's one of the first reasons fans choose to dislike a team.
Also, the Cowboys have a lot of arrogant fans. Nothing against Dallas fans, because all fanbases obviously have their fans that even supporters of the team would rather choose not to claim as part of their team's fanbase. Dallas has arguably more fans than any other NFL team, meaning there's probably more cocky Cowboys fans than other teams have.
The most important reason is probably because everyone is tired of hearing about all the drama out of Dallas. Now that Terrell Owens is gone it will get better, but for the last two years every morning something new was coming out of Big D. The last thing fans want to wake up and read about is the same stuff over and over about a team that can't even get out of its own way long enough to win a playoff game.
Just so it's known I've been a lifelong supporter of the Cowboys. I don't put bias in my writing because I work extremely hard to avoid it. Not mentioning that I have supported Dallas seemed wrong though. This will stop Cowboys fans from telling me I'm a 'Dallas hater' just because I spoke the truth about why people dislike the team.
Why does the NFL refuse to have the Super Bowl in a cold weather city? (ganzman-Yardbarker.com)
A lot of the fans on Yardbarker have answered this one for me, but I will try to go a little more in depth. Most fans are willing to pay more to go to a warm city in January than they would to go to a cold city. The other factor is weather. I don't think the NFL wants the weather to affect its championship game, although it only seems fitting since seemingly every single playoff game is affected by weather.
Where do you think Michael Vick ends up? (Jacob)
This is one of the hardest questions to answer at this point. Vick could end up nowhere honestly, although I don't believe that's likely. Assuming Vick is in good shape and still has the will to play in the NFL, both huge assumptions nonetheless, I believe Vick will end up in an offense with a coordinator that wants to experiment. Rumors are claiming that Washington is in the running, which makes sense considering the Redskins seem to be tired of inconsistent Jason Campbell.
A lot of teams would make no sense because they already have a mobile quarterback and others would never take a chance on Vick. When I started narrowing the list I found a lot of teams that I think could be interested. Personally, I believe Oakland would be one of one the frontrunners. Al Davis loves to take chances on guys like Michael Vick. He's explosive and he sales tickets. Other teams I think will be among the early frontrunners include Kansas City, Seattle, Tampa Bay, and Carolina. These teams either need an offensive spark, have an old quarterback, or have shown some offensive creativity.
Who do you think wins it all? (Jacob)
There's nothing quite like a Super Bowl prediction in May. I love it because you guys can look back and laugh when I change the prediction before the season (which I rarely do). Plus there's nothing like somehow being right a full eight months before the Super Bowl takes place.
Right now I'd pick the Eagles to knock off the Patriots. Donovan McNabb is one of the NFL's most underrated players and has been in position to win a championship too many times not to finally capture one. This could be one of the last years that Andy Reid and McNabb have together if they don't win the Lombardi Trophy. Philadelphia fans are getting impatient.
On paper Pittsburgh is the best AFC team (I correctly picked them to win the title last season around week eight) but a healthy Tom Brady completely changes the landscape. If New England gets back in rhythm offensively, like they were two years ago during their undefeated regular season, then it's going to be very hard to knock off the Patriots.
Remember the last Super Bowl between Philadelphia and New England? It was pretty good. I say we see it again.