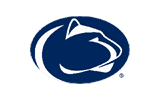 I am the only bracketologist on the internet that has had Penn State in my bracketology over the last few weeks. I posted the link to my bracketology earlier this morning and received this comment:
Penn State? You are joking right?
The answer? No I wasn't joking then and I'm not joking now. The Nittany Lions now have wins over Michigan, Michigan State, Purdue and Northwestern. Their RPI (71) is going to improve and their overall record of 17-5 is impressive. In my opinion they don't have a single bad loss and they are 6-3 in the Big Ten.
It's time to give some attention to Penn State. If the Nittany Lions had the name 'Kentucky' on their jerseys this would be a no brainer.
What does everyone think of the Nittany Lions? Do you agree with me and think they deserve a spot in the Big Dance? Or are they frauds that will be revealed the longer the season goes? I want to know what you guys think so post comments and let me know.
-Daniel Evans
OnlineSportsFanatic.com