Armando Galarraga deserves more. He deserves more than a sorry, no matter how sincere it might be.
That's not enough. Not for what he achieved last night.
First of all, I'm calling on all fans to remember this just as you would Roy Halladay's and Dallas Braden's perfect games this season. Legacies last as long as the record books.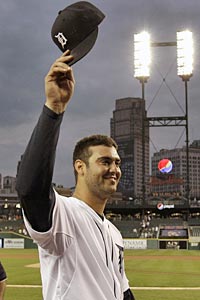 Trevor Crowe's fourth at-bat of the night, and declare it the 21st perfect game in history. Unfortunately, that's not even an option, there's no precedent for it.
But there is something baseball can do to make it better, if not perfect.
Jim Joyce came forward and admitted what we all saw, that he was wrong. With that step out of the way, Bud Selig can come in without crossing one of his umpires.
Since we already ruled out overruling the umpire's call as impossible, I say you overrule what you can, and that's the official scoring of the play. Rule it an error.
That's right, make a mistake as blatant as Joyce's and call it an error. Give it to Miguel Cabrera, if you want. Maybe even Galarraga, after all, he did snowcone the ball in his mit. Hey, that sure looked like a juggle to me! (See how easy that is?)
So the result is not a perfect game, the coup-de-grace of single-game achievements in baseball. What it is, though, is a no-hitter.
Does it completely fix the solution? Absolutely not, as we said it's far from perfect for Wednesday's Mr. Perfect. But being able to mark it down in the books as an official no-hitter is better than a swift kick in the butt.
Then when baseball gets around to doing it on the home run records, you would have a record to put an asterisk next to, but this one denoting good, not bad. An asterisk next to Galarraga's no-hitter.
He earned that.