Pedroia wants to keep playing, but the Red Sox would be right to DL him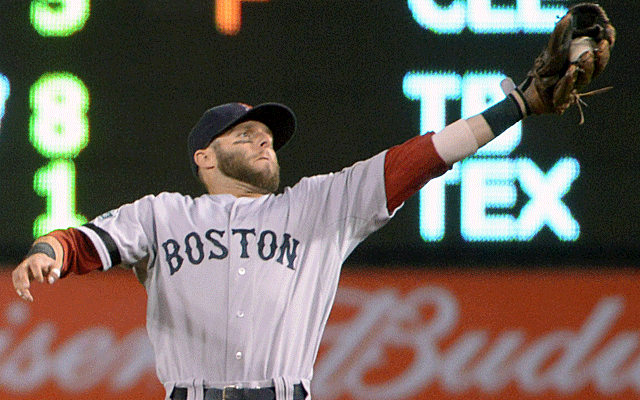 The Red Sox are 63-games over .500 in games Dustin Pedroia has started over the last three-plus years.
(Getty Images)
BOSTON -- Despite a torn muscle in his right thumb,
Dustin Pedroia
wants to keep playing.
The
Red Sox
, quite obviously, would prefer to put him on the disabled list and let this injury heal.
As of late Tuesday night, after multiple meetings, Red Sox general manager Ben Cherington emerged to say that no decision had been made.
"We're still talking through it," he said.
They've already consulted two doctors, including a highly respected hand specialist. They've been assured that Pedroia hasn't damaged any ligaments or tendons, and that he doesn't need surgery.
But they also know that if he continues to play, even with some sort of brace that minimizes the pain that comes from swinging a bat, he risks having the injury linger for months -- or having it worsen.
They also know that while they might struggle to survive two or three or four weeks without Pedroia now, they'd have a real hard time surviving without Pedroia for a longer term.
Over the last three-plus years, the Red Sox are a .500 team in games Pedroia has missed -- and a 63-games-over-.500 team in games he has started.
They've had enough problems this year that even with him in the lineup, they just got past .500 for the first time (the latest in a year they've had their first above-.500 record since 1996).
But even on the day they finally emerged over .500 -- a day when they had a satisfying 6-3 win over
Justin Verlander
and the
Tigers
-- the far bigger story was Pedroia and his injured thumb.
He tore the adductor muscle, they said. He said he did it three weeks ago, and aggravated it Monday night. He had an MRI on the thumb Tuesday, and then the two opinions and all the meetings.
He's arguing against the DL.
"I heal quick," Pedroia said.
"He's an amazing guy, an amazing leader," manager Bobby Valentine said.
They can give him another day to plead his case. It's hard to see how they can let him talk his way back into the lineup -- not with two-thirds of the season remaining.
"The risk of losing him for any length of time isn't worth the reward," Valentine said.
They need Pedroia in the lineup. And that means they can't risk having him in the lineup this week.