Should the Tigers worry about extra rest? History says no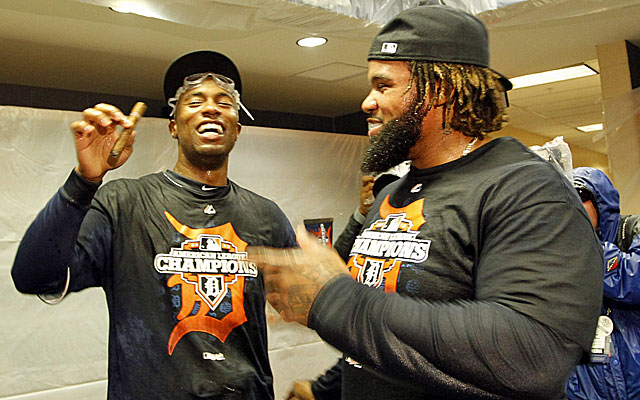 After their celebration the Tigers have had plenty of time off. (US Presswire)
So this is bad for the Tigers, right?

The Giants beating the Cardinals is bad, not because the Giants are necessarily a bad World Series matchup for the Tigers, but because now the National League champions (whoever they may be) will have no more than two days off between the end of the NLCS and the start of the World Series.

Meanwhile, the Tigers will have five days between games.

That's bad, right?

"I just hope the Cardinals win tonight," one Tigers person said to me Friday afternoon.
More playoff coverage
ALCS: Tigers vs. Yankees
NLCS: Cardinals vs. Giants

He remembered 2006, when the Tigers had six days between games while the Cardinals had just one. The Tigers seemed to lose any momentum, any timing, any ability by their pitchers to throw accurately to bases. The Cardinals won the World Series in five games.

I remember 2006. I also remember 2008, when the Phillies had six days off and the Rays had just two. I remember that the Phillies won the World Series in five games.

In the days leading up to that 2006 World Series, I went on the radio in Detroit and said that the extra rest would likely work in the Tigers' favor.

Why?

Because in the 11 years before that, the more rested team had won the World Series 10 times.

It didn't work out for the 2006 Tigers, possibly because the weather in Detroit was so bad that week that they weren't able to work out on the field. They went next door to Ford Field, home of the NFL's Lions, and were only able to work on bunting.

The weather in Detroit looks better this week, especially on Sunday and Monday. The Tigers will fly in their instructional league team from Florida, allowing them to simulate games.

They could still lose the World Series, but I'm not sure they could blame the layoff.

Since baseball added the League Championship Series in 1969, the more-rested team has actually won the World Series more often than the less-rested team (17-14, with a few years mixed in where the teams had equal rest).

In cases where the difference in rest was three days or more, the more-rested team has won four times, with the less-rested team winning five times. And teams with exactly five days' rest have gone 4-1.

The Tigers should remember that.