Report: Jacob Turner has shoulder tendinitis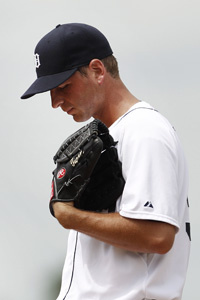 Tigers top prospect --
and consensus 14th best in all of baseball
--
Jacob Turner
was slated to be their fifth starter heading into spring training, assuming they didn't trade for a pitcher outside the organization. Now, it appears his place on the opening-day roster is in jeopardy.
Turner has been shut down for "at least" the rest of this week with shoulder tendinitis,
MLB.com reports
. It's an issue we commonly hear referred to as "dead arm" and could plague a pitcher for an extended amount of time, just ask
Phil Hughes
.
Considering the injury, Turner's spring stats shouldn't be much of a shock thus far. In three outings, he's allowed six hits and five earned runs in just four innings (good for an 11.25 ERA). What's worse, his control has been awful, too, as he's walked six. By comparison, Turner walked 35 hitters in 131 minor-league innings all of last season.
So it looks like the path is at least temporarily cleared for
Andrew Oliver
to win the fifth starter job. He's thrown seven shutout innings so far this spring, though his Triple-A and big-league track record don't exactly suggest he'll be lights out come April. Which is where trade talk comes in.
Tuesday,
CBSSports.com's Danny Knobler reported
that the Tigers -- along with the Red Sox -- are focused on landing Nationals pitcher
John Lannan
in a trade. Getting the news Detroit got on Turner Wednesday morning, one would only expect that focus to intensify.
RELATED:
Projected lineups, rotations and closers for all 30 teams