The 10 greatest Red Sox moments in Fenway Park history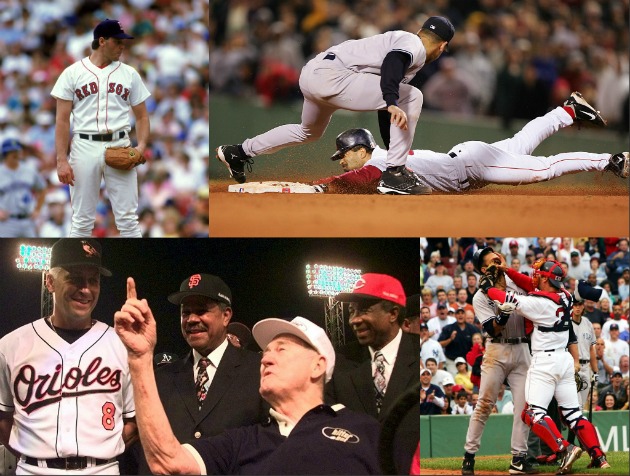 In 100 years, there have been countless memories provided to baseball fans everywhere inside the venerable structure that is Fenway Park. To try and make one list of the best 10 memories and claim it's the absolute, authoritative list of the best would be far too arrogant. It's fun to try, though, so here's our subjective list and we encourage you fans -- especially
Red Sox
fans -- to join in and make your own list. There's no wrong answer.
Here are Eye On Baseball's top 10 greatest Red Sox moments in Fenway Park, in chronological order:
For more memories, check out: Left on the cutting room floor
•
Game 8.
It was Year 1 of Fenway, and the Red Sox won the World Series. The clinching game
came October 16, 1912
against the
Giants
and Hall of Famer Christy Mathewson. Hugh Bedient and Smoky Joe Wood held strong against Mathewson, forcing extra innings in a 1-1 tie game. The Giants scored one in the top of the 10th, but then Hall of Famer Tris Speaker singled home a run to tie it and Larry Gardner hit a walk-off sac fly. Red Sox win, 3-2 and take the World Series. [If you're wondering why there was a Game 8, it's because
Game 2 ended in a tie
. Remember, these were the days before lights.]
•
1918.
There was a point in time that "1918" wasn't a cheer of mockery from
Yankees
fans. And that was in, yes, 1918. On
September 11, 1918
, the Boston Red Sox won the World Series. The clincher was Game 6, a 2-1 victory over the
Cubs
. Carl Mays went the distance, giving up only three hits and one run. By the way, a 23-year-old by the name of George Herman Ruth went 2-0 with a 1.06 ERA in the series.
•
Teddy All-Star Game.
On
July 9, 1946
, Fenway Park hosted the All-Star Game and Ted Williams gave the home crowd everything they wanted and more. He went 4-for-4 with a home run, four runs and five RBI. Oh, he also drew a walk.
•
So long, Splendid Splinter.
The 1960 season was a lost cause for the team, but it was a farewell for one of the greatest players in baseball history, as Ted Williams would retire. His final game was
September 28 that season
, in Fenway. The final at-bat of his career was, fittingly, a home run, the 521st of his illustrious career -- one in which he missed three seasons in his prime while serving in World War II. Williams hit .316 with a 1.096 OPS that season. At age 41 (and he actually turned 42 on August 30).
•
Yaz, Lonborg propel Sox to pennant.
It was October 1, 1967, and the Red Sox entered the final day of the season tied for first place. Jim Lonborg would go the distance for Boston, allowing only one earned run (three total) while Hall of Famer Carl Yastrzemski went 4-for-4 with a double, two RBI and one run scored in a
5-3 win
over the
Twins
. All five runs came in a huge bottom half of the sixth. Yaz won the AL Triple Crown and MVP that season. The Red Sox would go on to lose to the
Cardinals
in the World Series in seven games.
•
Game 6.
C'mon, we've all seen the highlight of Hall of Famer Carlton Fisk almost willing his home run into fair territory down the left-field line in the bottom of the 12th. This isn't just one of the most iconic moments in Fenway history, it's one of the most iconic moments in MLB history. (
October 21, 1975
). If you haven't seen it, well ... watch:
•
Rocket fans 20.
Only 13,414 fans showed up for this gem, due mostly to the fact that a Celtics playoff game was being played in Boston Garden. Those who saw this one instead saw the transformation of a young talent into a superstar. Roger Clemens became the first player in major league history to strike out 20 hitters in a nine-inning game. He only allowed three hits and one run (a solo homer by Gorman Thomas) in a
3-1 Red Sox win
. He would go on to win his first of seven Cy Youngs while the Red Sox won the AL pennant.
•
Teddy All-Star Game, Part II.
Ted Williams was now 80 years old and needed to be brought out to the mound on a golf cart, but it was a transcendent moment in baseball sentimentality. Baseball's All-Century Team was honored and Williams was there to throw out the first pitch. Players from both the AL and NL teams then surrounded Williams to shake his hand. The game was delayed for several minutes, but who cares? This was one for the ages. Then, for good measure, Red Sox ace Pedro Martinez went out and dominated,
striking out five in a perfect two innings
, winning the game MVP.
•
Statement Game.
The Red Sox entered July 24 trailing the Yankees by 9 1/2 games in the AL East. But on national TV against the Yankees, everything seemed to change. In the top of the third inning,
Bronson Arroyo
plunked
Alex Rodriguez
. And then A-Rod and Jason Varitek exchanged words before mixing it up physically and the brawl was on. Both A-Rod and Varitek were ejected, but the Yankees and Red Sox continued to exchange figurative punches throughout the afternoon. The wild affair would see several lead changes, 11 total pitchers and end in an
11-10 Red Sox victory
after Bill Mueller took
Mariano Rivera
deep for a two-run walk-off homer.
Just a regular-season game? No, it was more than that. The Red Sox went 43-20 the rest of the way and the swagger gained during this game helped lead to ...
•
Dave. Roberts.
With the Red Sox facing a four-game sweep at the hands of their nemesis, Dave Roberts pinch ran for Kevin Millar. The best closer in baseball history, Rivera, was on the mound. The Red Sox trailed 4-3 in the game, 3-0 in the series. And everyone in the park knew Roberts was going to steal. Still ...
A
David Ortiz
two-run homer
would win the game in 12 innings
, and the rest is history.
Huge thank you to Baseball-Reference.com, which is linked several times in the above post. We'd be lost without you, BBRef.