Tigers activate Delmon Young from restricted list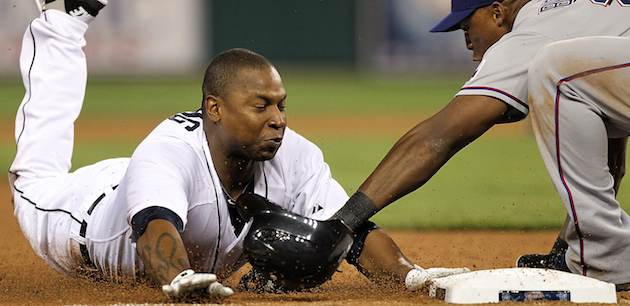 The Detroit
Tigers
have activated outfielder Delmon Young from the restricted list.
Young has served his seven-game suspension, which stemmed from
his arrest in New York on charges of misdemeanor aggravated assault and alleged anti-semitic outburst
, and will rejoin the team in advance of Friday night's home game against the White Sox. MLB.com's Jason Beck reports that
Young will not be in the starting on Friday, but he will be available to come off the bench
.
To make room for Young on the 25-man roster, the Tigers have designated
Brad Eldred
for assignment.
On the season, Young is hitting .242/.311/.333 and providing
typically disastrous levels of defense in left
.
Young apologized before Friday's game:
"I put myself in a bad situation, and I have no one to blame but myself," Young told reporters, including the Associated Press. "I hope that going through the treatment program will get all the help I need to come back and be a great teammate and a successful baseball player in the Tigers' organization."
Young said he is receiving treatment in Major League Baseball's alcohol treatment program.
"I know for a fact that I wouldn't be sitting here talking in front of you guys if I didn't have too much to drink or if I just didn't go out and drink at all. I know that for a fact," Young said. "That's the toughest part - just being branded anything racist or a bigot, especially when that's not me."
Young's agent, Arn Tellem, said he didn't believe Young had any anti-Semitic feelings. Tellem is involved with the National Jewish Fund and other Jewish charities.
"I have known Delmon for most of his life, and I can assure you that he is not anti-Semitic. He has a big heart and has always been exceedingly fair and broad-minded," Tellem said. "He acknowledged that he drank too much on the night of the incident, and that he put himself in a compromising situation."