Astros new uniforms will have 'some of the colors' from the past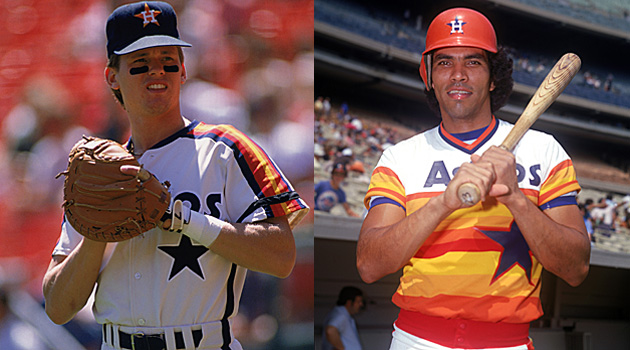 With the Houston
Astros
being shifted to the American League West next season, and under new ownership this season, the franchise in transition will also be going to new uniforms in time for the 2013 season. They will be submitting designs to Major League Baseball for approval within the next week, and new owner Jim Crane hinted at something of an homage.
"We'll blend some of the new with the history of the team and some of the colors in the past," Crane said (
Ultimate Astros
). "We've selected it all and we're about to submit it. We're due in on the 30th, so everything's set to go to baseball for approval."
As can be seen in the above pictures (check out a young Craig Biggio on the left, by the way), the Astros used to be pretty heavy on blue, yellow and orange. A star of some sort has pretty much always been on the uniforms, too, so it's probably reasonable to expect a star with some mix orange and blue, and maybe yellow.
Even after MLB approves the new threads, the Astros can't reveal the uniforms until after the 2012 season. So we'll be left guessing until at least September, when there will surely be a leak from somewhere (remember, the
Marlins
uniforms were leaked early).
For more baseball news, rumors and analysis, follow @EyeOnBaseball on Twitter, subscribe to the RSS feed and "like" us on Facebook.