Players back Roger Clemens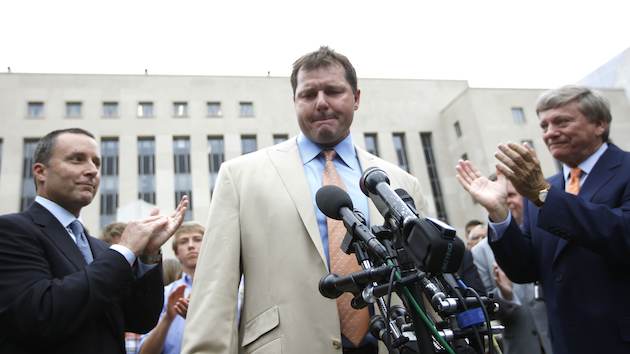 Baseball players are a close-knit fraternity, so it's hardly a surprise that most of the reaction to Roger Clemens' not guilty verdict on perjury charges were congratulatory in nature.

Here's some of the reaction culled from various reports from current and former big-league players:

• Yankees shortstop Derek Jeter: "I think [the verdict] means a lot for him, first and foremost," Jeter said (via MLB.com). "That's the important thing. I think it's great for the game that we can stop talking about it now, you know what I mean?

"This is something that's been going on for a long time. I'm glad it's over with. I'm pretty sure baseball fans will be happy it's over with."

• Yankees manager Joe Girardi: "I think when we get all trials out of the way, I think it does [end the discussion]," Girardi said (via MLB.com). "Because it seems like every time soneone was brought up before a grand jury, put on trial, you'd focus on what was going on the last 10, 15 years. Now it seems like we're beyond. We can focus on what's going to go on the next 10 years."

• Former Astros catcher Brad Ausmus: "I'm happy for him," Ausmus said (via the Houston Chronicle). "He's a friend of mine. You certainly want to see the best for him. He was one of the best teammates I've played with. You hate to see people that you care about in distressing situations. I'm certainly happy for him, Debbie and the boys."

• Cardinals first baseman Lance Berkman: "Obviously this is a great thing for Roger and his family," Berkman said (via the Houston Chronicle). "And I'm glad that he can put this trial behind him and move on to bigger and better things."

• Angels right-hander Jered Weaver: "He's a great guy, and you know, he always talked about work ethic in this league, and I've kind of taken it to heart and run with it," Weaver said (via the Orange County Register). "He worked his butt off for a long time to come upw ith those accomplishments. I'm glad to see that everything came out OK."

• Angels outfielder Torii Hunter: "The government came after our two biggest stars and they got nothing," Hunter said (via USA Today). "It was a witch hunt. They got nothing on this sport. So leave us alone, please."

It should also be noted that Yankees pitcher Andy Pettitte, who testified in the trial, declined comment, as did admitted steroid user Alex Rodriguez. Also adding a no comment was Mike Piazza. who will also be on his first Hall of Fame ballot this year.
For more baseball news, rumors and analysis, follow @EyeOnBaseball on Twitter, subscribe to the RSS feed and "like" us on Facebook.