Jason Kendall officially retires from baseball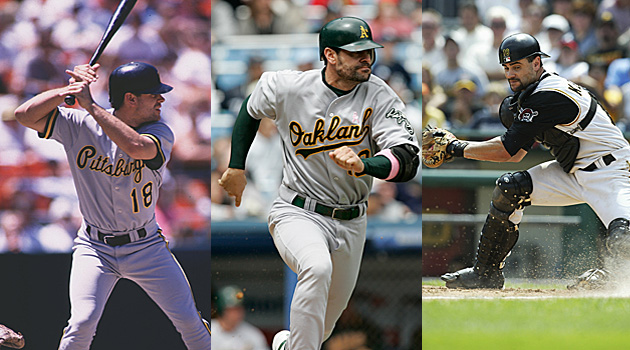 Kendall was a quality all-around player in his day. (Getty Images)
Many readers out there may have thought Jason Kendall was already retired. But he was actually active until Tuesday afternoon, when the Royals announced that Kendall has now officially retired.
Kendall had season-ending surgery on his shoulder (rotator cuff) in September of 2010 and then missed all of 2011 while recovering from the procedure. This season, he was playing for Double-A Northwest Arkansas. Or, more specifically, he played in two games and had three plate appearances after signing a minor-league deal July 19. He's now called it quits for good.
What Kendall should see when he reflects back on his playing career is a body of work that should make him very proud.
A three-time All-Star catcher, Kendall got the most out of his talent from behind the plate, in the batters box and on the basepaths. He ends with a career .288 batting average and .366 on-base percentage, which is very good for a catcher. The counting stats aren't bad, either, as Kendall collected 2,195 hits, 1,030 runs, 394 doubles and 189 stolen bases in his 15-year career. He also was hit by a pitch 254 times, ranking him fifth all-time behind Hughie Jennings, Craig Biggio, Tommy Tucker and Don Baylor.
Kendall, 38, began his career for the Pirates and finished third in 1996 NL Rookie of the Year voting. He played nine years for the Pirates, about 2 1/2 years for the A's, about a half-season for the Cubs, two years for the Brewers and one season for the Royals.
Kendall's personality had an impact on teammates, fans and media alike during his playing career. Here are three tweets that sum up the sentiment:
Jason Kendall was old school and played the game right & all while being a great dad. It was an honor to be your teammate. Great career.

— Billy Butler (@BillyButlerKC) July 24, 2012
Congratulations to Jason Kendall on an amazing career. Much respect! Learned a lot from him and i hope i can continue to. God Bless

— Danny Duffy (@dduffkc23) July 24, 2012
Jason Kendall has retired from K.C. Royals. Fiercest competitor I ever met on my 13 years covering the Pirates. Wishing him the best.

— Joe Rutter (@tribjoerutter) July 24, 2012
Obviously there's no word yet on Kendall's plans for the future, but I'd love to see him remain in the game, whether it's as a coach, manager or on TV in some capacity.