Braves GM says team has 'moved on' from Ryan Dempster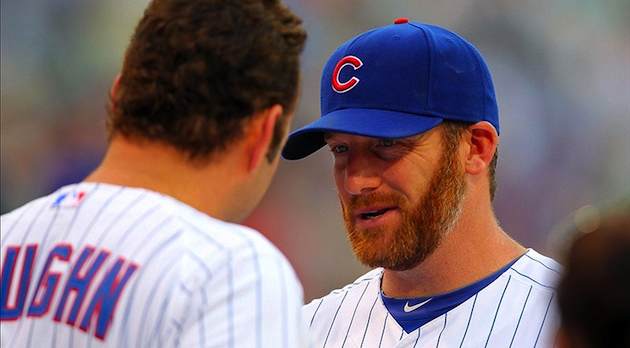 Ryan Dempster may be stuck catching first pitches from celebrities instead of pitching in a pennant race. (US Presswire)
It's no longer Ryan Dempster's decision on whether he'll join the Braves -- Atlanta is moving on from the Cubs' right-hander, Braves general manager Frank Wren said.

Appearing on 680 The Fan in Atlanta, Wren said there were parameters on the deal that expired yesterday and called another deal "highly unlikely," according to Sandra Golden on Twitter. He also said the team wasn't "going to paint ourselves in a corner. … We have moved on."

So, I know I'm just part of the heathen media here, but it sounds like the "complete fabrication" of a trade was actually agreed to and wasn't a "complete fabrication," as Dale Sveum called reports of a deal. In fact, what was reported was that there was an agreement to a deal between the Braves and Cubs -- something Wren confirmed. It is Sveum, who was either lying or lied to by Theo Epstein, whom Sveum said told him, "nothing is happening."

Sveum's complete quote was, "It's very unfair for anybody to go through something that's a complete fabrication." You know what else is unfair? Claiming someone is not being professional or doing their job right when they are doing just that. If Sveum is so upset, it's not our Jon Heyman or MLB.com's Mark Bowman he should be upset with, it's whoever leaked word of the agreed upon trade.

As for Dempster, who tweeted, "THERE IS NO TRADE," he at least worded it correctly and was proven right in the end. And he may be more right than he wanted to be -- Dempster reportedly wants to go to the Dodgers, and now the Cubs' leverage has bottomed out and both Dempster and the Cubs may be stuck where they are.
H/T: Hardball Talk
For more baseball news, rumors and analysis, follow @EyeOnBaseball on Twitter, subscribe to the RSS feed and "like" us on Facebook.