Brett Lawrie joins many Blue Jays teammates on disabled list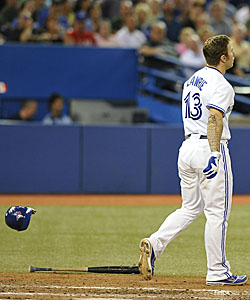 Hitting the DL is in vogue this season in Toronto. (Getty Images)
Blue Jays third baseman Brett Lawrie has been placed on the disabled list, reports Gregor Chisholm of MLB.com. He has missed the last four games with a rib injury, so evidently it hadn't progressed enough for the Blue Jays to believe he can return within the next few days.
Lawrie joins Jose Bautista and about 750 Jays pitchers on the disabled list.
Please note the rather obvious sarcasm above, though it is simply amazing how many injuries the Blue Jays have dealt with this season. This have used a team record 31 (!) pitchers and have their best hitter on the shelf, in addition to Adam Lind, J.P. Arencibia and now Lawrie.
Lawrie, 22, is hitting .282/.326/.416 with nine homers, 40 RBI, 59 runs and 13 stolen bases this season. In his absence, Adeiny Hechavarria will likely continue to see the most playing time at third base, though the rookie is off to an awfully rough start. He's 1-for-11 so far (.091) with a .231 on-base percentage.
For more baseball news, rumors and analysis, follow @EyeOnBaseball on Twitter, subscribe to the RSS feed and "like" us on Facebook.