Cardinals' offensive drought among worst in club history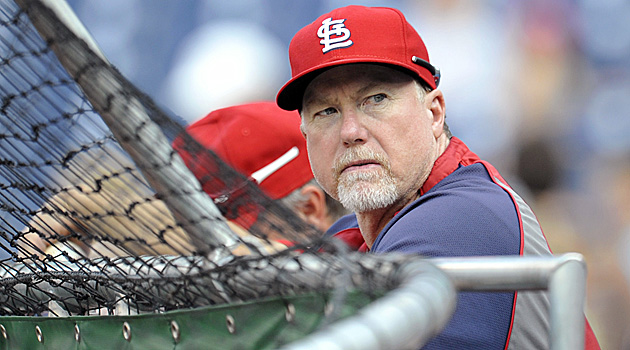 Mark McGwire's bunch is collectively slumping. (US Presswire)
After a win Monday over the Pirates, the St. Louis Cardinals sported the best offense in the National League and held a 2.5-game lead for the second wild-card spot in the NL.
Since then? A 9-0 loss. A 5-0 loss. An 8-1 loss (and that run was a tack-on run in the eighth inning). And Friday night's 10-0 loss to the Nationals. Talk about doing a number on your run differential, but that's not why we're here (as you may have guessed from the headline).
The Cardinals have now scored one run or less in four straight games. That has only happened 11 times in club history, and only twice has that streak run longer than four games (it happened six games in a row twice, last in 1992).
More from Eye on Baseball
What's worse, of those four-game streaks with one run or less, only one time (in 1958) did the Cardinals score just one total run in the four-game span. Viewing from that lens, it's not inaccurate to say this is tied for the worst offensive drought in club history. And this is a strong offensive team, too.
What's the culprit? It's parts of small-sample coincidence, good opposing pitching and the loss of Yadier Molina.
Molina is the clubhouse leader and was an MVP candidate before getting leveled in Pittsburgh Tuesday. The Cardinals have only scored once since then. Losing Rafael Furcal Thursday night didn't help either.
We also have to realize that it's only four games of a 162-game schedule. Slumps happen, especially against good pitching and especially with a key offensive player on the shelf.
Still, this has to be concerning as the calendar turns to September with the Cardinals in a heated wild-card race.
For more baseball news, rumors and analysis, follow @EyeOnBaseball on Twitter, subscribe to the RSS feed and "like" us on Facebook.