Red Sox chairman Tom Werner talks about Bobby Valentine, David Ortiz and more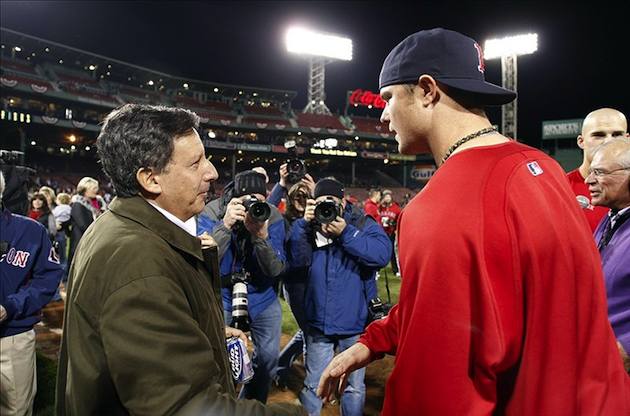 Red Sox chairman Tom Werner says the owners are happy with GM Ben Cherington. (Getty Images)
Red Sox chairman Tom Werner hasn't said a lot during his tenure with the team, but he recently spoke to the Boston Globe's Peter Abraham after visiting the team during a three-game sweep in Anaheim.
Werner said last month's big trade was first talked about in July, so there was some inkling that if the Dodgers claimed Adrian Gonzalez and Josh Beckett on waivers, there was genuine interest on the part of Los Angeles.
"We were very pleased with the trade," Werner told Abraham. "We felt it gave us a reset that we could start working on how to improve the club for next year. We were aware that these were three great All-Star players we traded. But we had a real challenge to improve things for next year, and this gives us a real opportunity."
Werner noted the team would continue to spend money, even if it's not on this year's thin class of free agents. The team would like to sign Cody Ross to an extension, as well as Jacoby Ellsbury. Ross is a free agent after this season, Ellsbury next.
Here's some other highlights from the article:
• Werner wouldn't comment on whether Bobby Valentine would return for 2013.
"I don't really want to get into that today," Werner said. "I don't want to talk too much about him. But he's had a challenging year. I think, as we've said before, he's doing a good job."
• Werner was much more open with praise for new general manager Ben Cherington:
"We give him high marks in how he's dealt with the challenges this season, and he's going to be with us for a long time," Werner said.
• "We'd like to see David [Ortiz] come back," Werner said. "He's the inspirational leader, and one of the first tasks that we deal with is hopefully extending our relationship. We all have the same objective, which is to see his career end with the Red Sox, whenever that is."
• Werner said the ownership group was not handicapped in any way by its acquisition of Liverpool of the English Premier League. He said they go so far as fining any member of the group who talks soccer while watching a game at Fenway Park.
"There's a wall between the two teams," Werner said. "There is nothing that distracts us from our mission with the Red Sox."
For more baseball news, rumors and analysis, follow @EyeOnBaseball on Twitter, subscribe to the RSS feed and "like" us on Facebook.