Believe it or not, Vernon Wells is playing better than Mark Trumbo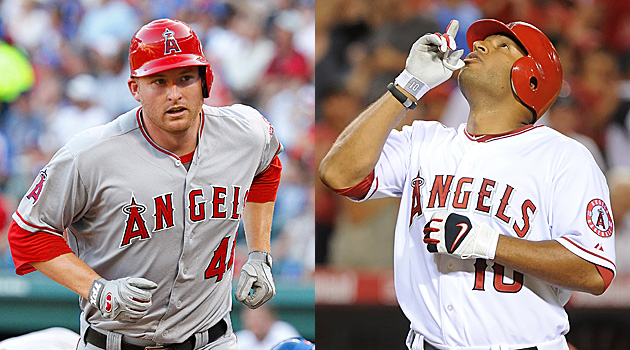 Holy plot twist! (Getty Images)
Back in, say, mid-June, what if someone would have told you Vernon Wells would be more productive than Mark Trumbo by early September? My guess is once you realized the person was dead serious some uncontrollable laughter would have washed over your body. And yet here we are. Trumbo is mired in an extended slump while Wells has been pretty good for several weeks.
Since July 28, Trumbo is hitting .183/.241/.254 with just three extra-base hits (all homers) in 137 plate appearances. He's struck out 53 times and walked just eight times.
Since August 10, Wells is hitting .282/.383/.641 with two doubles, four homers and 12 RBI in 47 plate appearances. In that span, he's walked more times (seven) than he's struck out (six).
Now, Wells' success is obviously a very small sample and I'm not a fan of benching starters to "ride the hot hand," but the Angels need every game they can get.
"Every game now is a playoff game," Wells said on the post-game broadcast.
He's right, because the Angels are 3.5 games out of a wild-card spot with several teams to leapfrog.
Also, Trumbo's woes started right around the time he had a rib injury and back spasms, so there could be some residual issues affecting him there.
So, when the Angels face right-handed pitchers and Kendrys Morales is used as the DH, should Mike Scioscia seriously play Wells in left field instead of Trumbo? Vote in the poll and discuss, if you wish.
I believe I would stick with Trumbo in hopes he turns things around -- assuming he really is completely healthy -- but this is definitely something to keep an eye on. It's an especially entertaining discussion considering that the mere mention of Wells' name probably still elicits screams of horror from most Angels fans.
For more baseball news, rumors and analysis, follow @EyeOnBaseball on Twitter, subscribe to the RSS feed and "like" us on Facebook.