Wil Myers named Baseball America's Minor League Player of the Year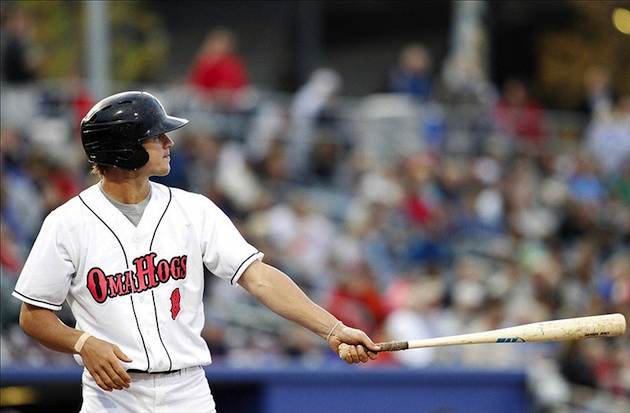 Wil Myers hit 37 home runs in the minor leagues in 2012. (US Presswire)
Royals outfielder Wil Myers was named Baseball America's Minor League Player of the Year, the magazine announced on Tuesday.
Myers, 21, hit .314/.387/.600 with 37 home runs between Double-A Northwest Arkansas and Triple-A Omaha. In 99 games at Triple-A, he hit .304/.378/.554 with 24 home runs and 79 RBI.
A converted catcher, Myers struggled in 2011, his first year as a full-time outfielder, hitting .254/.353/.393 at Northwest Arkansas. It's safe to say his 2012 was better. Despite Myers' hot season, the Royals didn't call him up after rosters expanded, but he is expected to push for the starting spot in right field for 2013.
A third-round pick in 2009, Myers is the third Royals prospect to win Baseball America's award, joining Tom Gordon (1988) and Alex Gordon (2006). Last season the Angels' Mike Trout won the award.
Previous winners of the Baseball America Minor League Player of the Year award:
2011 Mike Trout, Angels
2010 Jeremy Hellickson, Rays
2009 Jason Heyward, Braves
2008 Matt Wieters, Orioles
2007 Jay Bruce, Reds
2006 Alex Gordon, Royals
2005 Delmon Young, Devil Rays
2004 Jeff Francis, Rockies
2003 Joe Mauer, Twins
2002 Rocco Baldelli, Devil Rays
2001 Josh Beckett, Marlins
2000 Jon Rauch, White Sox
1999 Rick Ankiel, Cardinals
1998 Eric Chavez, Athletics
1997 Paul Konerko, Dodgers
1996 Andruw Jones, Braves
1995 Andruw Jones, Braves
1994 Derek Jeter, Yankees
1993 Manny Ramirez, Indians
1992 Tim Salmon, Angels
1991 Derek Bell, Blue Jays
1990 Frank Thomas, White Sox
1989 Sandy Alomar Jr., Padres
1988 Tom Gordon, Royals
1987 Gregg Jefferies, Mets
1986 Gregg Jefferies, Mets
1985 Jose Canseco, Athletics
1984 Mike Bielecki, Pirates
1983 Dwight Gooden, Mets
1982 Ron Kittle, White Sox
1981 Mike Marshall, Dodogers
For more baseball news, rumors and analysis, follow @EyeOnBaseball on Twitter, subscribe to the RSS feed and "like" us on Facebook.