Ozzie Guillen speaks from experience on Yunel Escobar situation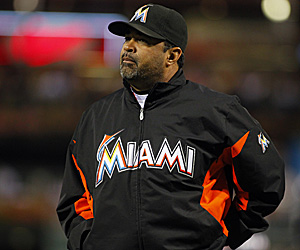 Guillen has been in Escobar's shoes, sort of. (Getty Images)
Blue Jays shortstop Yunel Escobar has been suspended for three games following the display of a gay slur (in Spanish) on his eye-black stickers last Saturday. Marlins manager Ozzie Guillen has been through a similar situation and can relate to what his fellow Latin American is going through.
"It's something I don't feel proud about it," Guillen told reporters Tuesday night (Fish Tank blog). "It was a very, very hard situation for me and the people around me. It was maybe the worst thing I ever did."
Guillen actually said the word out loud in a tirade directed at then-Chicago Sun-Times columnist Jay Mariotti. Guillen apologized for the use of the word at the time but did not back off his overall criticism of Mariotti (rightfully so in both cases, I might add).
Guillen notes that Escobar was probably more joking around than actually intending to use hate speech, as the word is commonly used in Venezuela -- even though Escobar is from Cuba -- when people aren't being serious.
"I think this kid did it without intending to hurt anybody. I think he did it just for fun. But in our country we do that," Guillen said. "I know he didn't mean to hurt anybody's feelings. Nobody is that stupid."
More:
"To be honest with you, in my house we say that word every 20 seconds. I got three kids. It's how you say it," Guillen said.
I'm not sure about that. I think it would serve everyone best if a new "joking around" word was chosen -- one that isn't an offensive slur to a segment of the population. May I recommend "clown?" I think that's an underrated barb.
For more baseball news, rumors and analysis, follow @EyeOnBaseball on Twitter, subscribe to the RSS feed and "like" us on Facebook.