Welcome to the 2012 postseason: Washington Nationals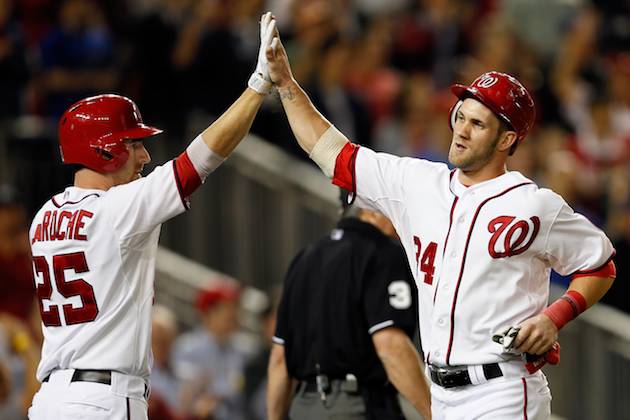 Bryce Harper's rookie season will end in the playoffs. (Getty Images)
Just hours after the Reds clinched their spot in the postseason, the Nationals also reserved a confirmation email that they'll be busy in October, beating the Dodgers 4-1 on Thursday night.
Have you stayed with us before? An interesting question. Yes and no. The Washington Nationals have not, but their predecessors, the Montreal Expos did. Once.
How did you enjoy your last visit? The 1981 Expos made it to the postseason despite finishing second overall in their division. In the strike-shortened season, the Expos finished first in the NL East in the second half then defeating the Phillies in the National League Division Series. Montreal lost to the Dodgers in the best-of-5 NLCS after taking a 2-1 lead. The Dodgers crushed the Expos' dreams by beating them in Game 4 and 5 at Olympic Stadium to advance to the World Series.
Frequent flyers? Jayson Werth has played in 44 postseason games and won a ring with the 2008 Phillies. Edwin Jackson started four games last fall, but was just 1-1 with a 5.60 ERA, but did earn a ring with the Cardinals. Mark DeRosa has played 22 postseason games.
What's on your itinerary? At 91-58, the Nationals have the best record in baseball. With a 5.5 game lead over the Braves, their magic number for the National League East title is eight.
How long will you be staying with us? Despite the hullabaloo around the shutdown of Stephen Strasburg, the Nationals still have the best rotation in baseball. Nationals pitchers have a 3.29 ERA, the best mark in baseball. In addition to Gio Gonzalez and Jordan Zimmermann in the rotation, Drew Storen and tyler Clippard spearhead an underrated bullpen. The team's .747 OPS is the fourth-best in the National League, trailing Milwaukee, Colorado and St. Louis. The Nationals are the favorites in the National League, but will their lack of playoff experience hurt them?
For more baseball news, rumors and analysis, follow @EyeOnBaseball on Twitter, subscribe to the RSS feed and "like" us on Facebook.