National League Rookie of the Year Watch: Three-man race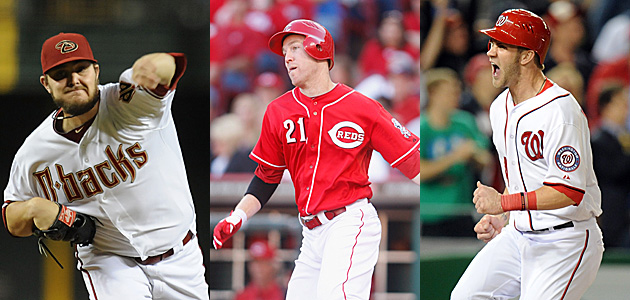 Though Aoki may sneak in, these three appear to be the frontrunners for NL Rookie of the Year. (Getty Images)
With just a week left in the season, here's our final look at how the National League Rookie of the Year race is shaping up. These aren't our picks -- we'll do those in early November -- but instead, educated speculation on how the voting should shake out.
There are two things to keep in mind here. First of all, BBWAA voters aren't allowed to discuss how they are leaning, so there's no way to do research on the actual voting body. Secondly, voters give a first, second and third place in this vote, and that's it. It's not like MVP where 10 names are listed. Thus, the number of players receiving votes is normally pretty low. Here are the six names we expect to see garner nearly all -- if not 100 percent -- of the votes.
Frontrunners
Todd Frazier, Reds: I felt like Frazier had this thing locked up a month ago, but he's had a terrible September and even lost a good amount of playing time with the returns of Joey Votto and Scott Rolen. Still, a bad finish does not come close to negating the body of work. Frazier is hitting .279/.338/.504 with 18 homers and 64 RBI. He also served as a valuable fill-in when Votto was injured for a significant amount of time and the NL Central champion Reds thrived.
Bryce Harper, Nationals: Ah, it's time to cue the haters again. Harper has a large contingent of those for some reason, in addition to a less-than-stellar batting average. You know what else he has? Exceptional range in all three outfield spots, a great arm (eight outfield assists, not to mention countless runners refusing to take an extra base due to the fear of getting thrown out), power (23 doubles, eight triples, 19 homers), speed (16 stolen bases) and history (only one player has ever hit more homers in a season as a teenager). The slash line is .260/.331/.450 and do not ignore the 92 runs scored.
Wade Miley, Diamondbacks: With a pair of starts remaining, Miley is 16-10 with a 3.25 ERA, 1.18 WHIP and 131 strikeouts in 183 innings. Two stellar outings to close the season 18-10 with an ERA in the low-3.00s would do wonders for his chances, but I wonder if the pennant race situation bodes better for Harper and Frazier's chances? Tough to tell right now.
Also in consideration
Yonder Alonso, Padres: It's been a strong rookie year for Alonso, with a high doubles total, strong on-base percentage and some clutch hits. He'll grab some votes, but a fifth- place finish is probably his best-case scenario in a strong NL rookie class.
Norichika Aoki, Brewers: If Aoki has another hot streak in him and the Brewers improbably make the playoffs, Aoki has a shot at joining the three "frontrunners" here in a four-man mish-mash of legitimate contenders to win the award. If not, Aoki looks like the fourth-place finisher. No shame in that.
Wilin Rosario, Rockies: The high home run total will garner Rosario some votes. A low on-base percentage (.316), poor defense behind the plate and having two-thirds of his 27 homers coming in the thin air of Coors Field (it's first in runs and third in homers this year, so don't bring me the "humidor" argument) mitigates a lot of the upside. Rosario will battle Alonso for fifth place, in all likelihood.
For more baseball news, rumors and analysis, follow @EyeOnBaseball on Twitter, subscribe to the RSS feed and "like" us on Facebook.