Bobby Valentine cracks a 'beer in clubhouse' joke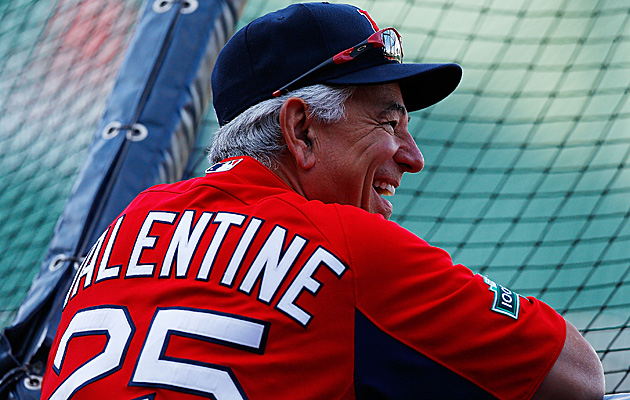 Despite a turmoil-filled season, Bobby Valentine is still smiling (sometimes). (Getty Images)
After the long and tumultuous Red Sox season, it appears manager Bobby Valentine is entering his last week of employment in Boston. Still, he has maintained his sense of humor. Note the last two sentences from this quote:
"The job obviously wasn't what I set out to do," Valentine told reporters on Wednesday (bostonherald.com). "When you don't accomplish what you set out to do, you feel like you haven't done a good enough job. It's simple. Not much I would've done differently, I don't think, other than I think I would've kept the beer in the clubhouse. I could've used it after a few games."
Remember, at least part of the Red Sox's collapse last September was blamed on some pitchers drinking beer in the clubhouse during games. Upon taking the managerial post this past offseason, Valentine banned beer in the Red Sox clubhouse.
Now, I hope I'm wrong, but I'm sure someone somewhere will take Valentine's comment the wrong way and go after him for "poor taste" or something similar. Instead, let us all maintain a modicum of sanity and take the crack for what it was: A well-placed joke by a Dead Manager Walking.
For more baseball news, rumors and analysis, follow @EyeOnBaseball on Twitter, subscribe to the RSS feed and "like" us on Facebook.