Reds' Johnny Cueto diagnosed with 'mild oblique strain,' return for NLDS in question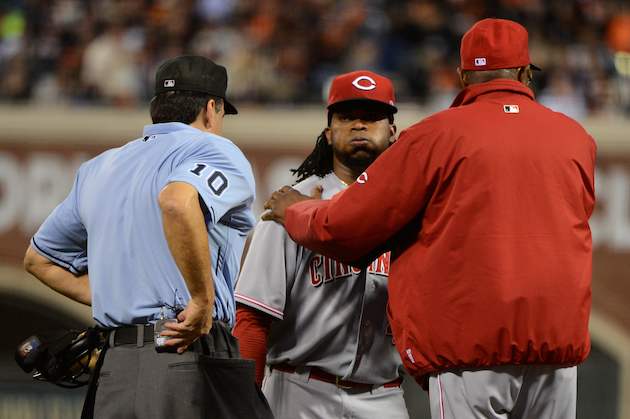 Johnny Cueto left Game 1 of the NLDS against the Giants after only eight pitches. (Getty Imgaes)
CINCINNATI -- After Reds starter Johnny Cueto left Game 1 of the National League Division Series on Saturday, the team called the injury a back spasm. On Tuesday, Reds trainer Paul Lessard said the injury has been diagnosed as a mild oblique strain, which casts further doubt on Cueto's availability not just for the NLDS but the entire postseason.
Cueto threw only eight pitches before exiting Game 1, and the team expressed hope he could return. Lessard said Tuesday the team has yet to decide whether to send Cueto for an MRI -- and it's unsure if or when he can return.
Cueto's oblique might affect him more because of his extreme twisting motion. The issue is Cueto's right oblique, which is opposite of most oblique strains. Pitchers and hitters usually have oblique injuries on their front side.
"They said he's getting better, but we don't know what 'better' is," Reds manager Dusty Baker said in Tuesday's pregame news conference. "So it's a question. I mean, that's a volatile area. You've seen the obliques: Sometimes they hang around for a while, and sometimes they don't hang around for a while. We don't know the severity of it. He came in yesterday and got treatment all day long, so right now I would just be guessing to let you know how he is exactly right now. In a nutshell, we don't know."
When asked about the team's Game 4 starter, if necessary, Baker said the team wouldn't make a decision until after Tuesday's Game 3. The Reds lead the best-of-5 series with the Giants two games to none. Baker said he'd be reluctant to use Mat Latos, who pitched four innings of relief in Game 1. However, if the team doesn't put Cueto on the DL, he'd be the most rested starter the team has.
"You would rather not because you don't go through the year with guys pitching on four days' rest," Baker said. "Right now, we don't have any decision on a Game 4 starter. Right now, it depends on what happens today and then we will make that decision after the game. I would like to not even have that decision to make, to tell you the truth. That would be the epitome of a good day, you know, would be for Homer to throw a good day and we can worry about somebody else starting the next series. A lot depends on [Tuesday]."
For more baseball news, rumors and analysis, follow @EyeOnBaseball on Twitter, subscribe to the RSS feed and "like" us on Facebook.