Reds bringing back unfairly maligned Dusty Baker the right move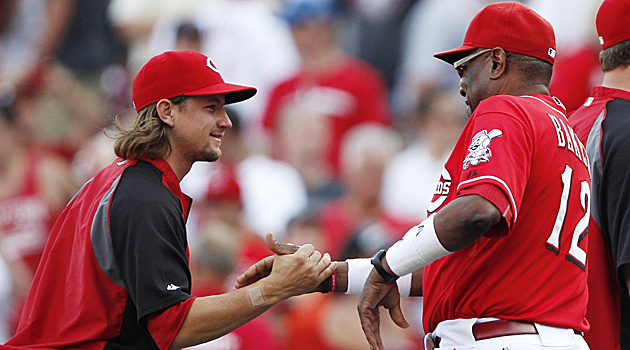 Baker's players love and respect him greatly. (US Presswire)
Dusty Baker agreed to a two-year contract extension with the Reds Monday. Soon to follow, legions of hate directed in Baker's direction and also toward the Reds for being stupid enough to re-up with such a horrible manager. Meanwhile, I'm rolling my eyes.
The general malign on Baker is so unfair it's hard to even put in a proper context.
For one, I still see people talk about him ruining young pitchers' arms, despite the fact that the Reds had a young and historically durable starting rotation during the regular season. Are we all still clinging to the Cubs from a decade ago? And by the way, you can blame Baker for Mark Prior, but Kerry Wood's arm troubles began before Baker and Carlos Zambrano never made less than 30 starts in a season until 2009. So Dusty Baker overworked one young starting pitcher nine seasons ago. There's your issue. Run with it.
Another issue with Baker is supposedly his refusal to play youngsters instead of veterans. Maybe he doesn't throw guys into the fire as quickly as fans would like sometimes, but he's overseen the development of Joey Votto, Jay Bruce, Johnny Cueto, Homer Bailey, Aroldis Chapman, Zack Cozart and Todd Frazier. I kinda think that guy knows how to bring young players along better than a message-board poster, no? Also, in 2010 Mike Leake become the first pitcher since 1995 to skip the minors and head directly to the majors. But, yeah, Dusty refuses to play young guys, right?
Another positive: The fact that Baker's players love and respect him.
"He is the only manager I've known and he is the one I'm comfortable with," said Bruce (daytondailynews.com). "He has been great to me, to the team, to everyone. I would love to have him back and I know he wants to come back, but there is a lot more to it than that. This is the team he wants to be with."
"All I can talk about is my relationship, playing under him, and I've really enjoyed playing for him," said Votto (daytondailynews.com). "I've learned from him. I have utmost respect for him and I absolutely love calling him my manager."
They aren't alone. In support of Baker you'd find a line out of the door of current and former players.
It's pretty tough to question Baker's on-field success, either. He averages a division title slightly more frequently than once every four years (five in 19 seasons), and he's not exactly operating the Yankees. In 2003, he led the Cubs to their first division title since 1989. He's won the NL Central with the Reds in two of the past three seasons. Prior to that, the Reds hadn't won the division since 1995.
We cannot forget that the Reds won 97 games this season while only getting 111 games from superstar Votto. The Reds actually thrived initially without Votto -- a top-five player in baseball when healthy -- and there's no chance that happens without strong leadership.
As far as the game management aspect, of course Baker makes mistakes. All managers do. I just feel like he's so unfairly maligned it's taken on a life of its own at this point. There's no way to prove it, but is it possible people are just complaining about things when they don't work out because it's Baker?
Take Game 3 of the NLDS, for example. I've seen the cries of "Dusty should've walked Arias so the Giants had to take Romo out" rise to a fever pitch. But what if Jonathan Broxton issued a bases-loaded walk and the Reds lost 2-1? We'd be hearing about how stupid Dusty is for walking the bases loaded in a 1-1, extra-innings game. I guarantee that. Oh, I know he pulled Homer Bailey too early, too, right? Even though the Reds' bullpen -- a stellar group, by the way -- didn't allow a run until the 11th inning. Can't you just hear all the complaining about Baker sticking with a pitcher for too long if Bailey loses the game in the eighth or ninth inning?
It just seems all too convenient. Every Dusty dissenter has a convenient excuse to malign every move Baker makes or doesn't make ... after the game.
To reiterate, yes, Baker has his weaknesses. It's just that his positives far outweigh his negatives. I don't have the answers as to why he's so reviled in some circles. It's not because he doesn't have a ring. There are some adored managers out there (Joe Maddon, for one) without a ring. For whatever reason, it seems like bashing Dusty Baker is just the cool thing to do.
One thing is for sure: It's become far too commonplace for fans to lazily pile on Baker. Kudos to the Reds for ignoring the noise and retaining a good manager.
For more baseball news, rumors and analysis, follow @EyeOnBaseball on Twitter, subscribe to the RSS feed and "like" us on Facebook.