Jeff Kent talks Survivor, NLCS, Matt Holliday's slide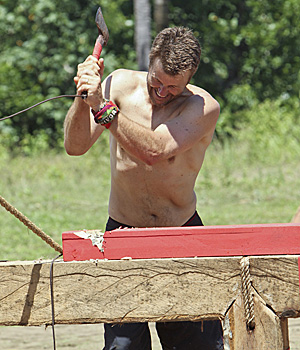 Jeff Kent of the Kalabaw Tribe during the fifth episode of Survivor: Philippines, Wednesday, October 17 (8-9 p.m., ET/PT) on the CBS Television Network. #Survivor. Photo: Monty Brinton/CBS(c) 2012 CBS Broadcasting Inc. All Rights Reserved.
Through four episodes on CBS' hit reality show "Survivor," former NL MVP Jeff Kent is still going strong. Meanwhile, one of his former teams, the San Francisco Giants -- for whom Kent had his best seasons -- are playing the St. Louis Cardinals in the NLCS.
Not only that, but a much-discussed play from Game 2 of the NLCS involved Matt Holliday taking out Giants second baseman Marco Scutaro with a slide some are calling dirty and Holliday himself admitted was a step too late.
So what better time to catch up with Kent? Eye on Baseball did so Tuesday afternoon via email.
NOTE: If you're looking for baseball answers only, hit the last three questions. Survivor only? Read the first five.
EOB: Up to this point in the game I feel like you've put yourself in a very good position, but are there any regrets regarding the strategy you've taken?
Kent: I think we all look back and think we could have done things differently or better but in the show so far the relationships that I have with my tribemates and the all-around ability both socially and physical, I don't know if I would have done anything different. Maybe the only thing is I wouldn't have gotten hurt in the beginning. I tried to do too much getting off the boat in the beginning and I hurt my knee doing it.
EOB: After last week's challenge, Russell went a bit over the top in a tirade and I believe it completely disrespected his teammates, Malcolm and Denise. As a member of another tribe, what were your feelings on the outburst?
Kent: I think the first thing that came out of our mouths was "oh brother, give me a break." He was disrespectful. We all felt it. We all thought it was an act and I was kind of embarrassed for the guy. He comes into the challenges talking big but when he lost he was a sore loser. None of us wanted to see a sore loser and that was embarrassing.
More playoff coverage
ALCS: Tigers vs. Yankees
NLCS: Cardinals vs. Giants
EOB: Speaking of that challenge, you had to come from behind but it was a hand-eye coordination situation. How did it compare to a huge at-bat in baseball and then coming through in the clutch?
Kent: I wanted to be the guy who swung the ball at the pots because I knew I was suited for it. Everyone said go for it. I was prepared for it so that was neat. So far there haven't been a whole lot of challenges in my element but that was one of them. I didn't panic, even being behind, so I let my skills and my talent take over. We were able to win, so we didn't have to go to Tribal Council.
EOB: Is there any feeling on your tribe at this point that losing a challenge wouldn't be the worst thing in the world, as we've seen tribes in the past throw challenges because -- for lack of a better term -- they seem to get sick of each other?
Kent: That's right. You sit on an island with lack of food for days on end. Through those days you figure out who is next to go. Sometimes you want to go to TC so you can kick that person out to make your tribe more peaceful. Sometimes you find yourself thinking it wouldn't be such a bad thing so we can kick so and so out.
EOB: As a competitor, I'm sure you are constantly sizing up opposition. Who do you feel -- up to this point -- is the biggest threat to prevent you from winning?
Kent: Absolutely [Jonathan] Penner is my biggest threat right now. I was doing all that I could to defer all attention to him as the biggest threat. That is also out of respect for what his game is and what he does.
EOB: Shifting gears to baseball, what did you think about Holliday's slide into Scutaro last night?
Kent: Holliday did take an extra step too far to slide into Scutaro, but you gotta understand that in the playoffs players are going to take their game to the next level. Scutaro should have known that and made a better effort to clear the bag so he wouldn't get hurt.
EOB: If that were you in Scutaro's shoes, would you expect a pitcher to retaliate on your behalf?
Kent: Not in the playoffs, no. In the playoffs there is too much at stake. In the regular season, maybe so. In the playoffs there is no time for retaliation. There is no room for error, so if you are going to retaliate that could potentially cost you a run, and in the playoffs you can't afford to give up a run.
EOB: What's your prediction for the outcome of the NLCS? How about a World Series champion prediction?
Kent: I predict the Giants to win. I think they will have the same attitude going through the playoffs -- they aren't going to let anyone else win.