Royals would be wise to discuss Dan Haren, Ervin Santana with Angels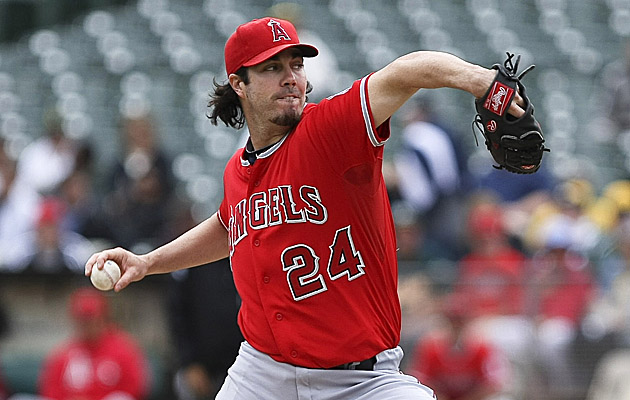 Haren would be a great fit in Kansas City. (US Presswire)
Monday, CBSSports.com insider Jon Heyman reported that the Angels are pondering trading either Dan Haren or Ervin Santana before deciding whether to exercise their contract options Wednesday. It's a short window, sure, but as I was sitting around the airport I couldn't help but feel like there's a perfect trading partner: The Kansas City Royals.
As I pointed out in the Royals' R.I.P., the Royals desperately need starting pitching upgrades.
While the Royals didn't have a very good offense in 2012, there's reason to believe they have the pieces in place to improve greatly. Eric Hosmer had an awful sophomore slump, Salvador Perez and Lorenzo Cain each missed time with injuries, Mike Moustakas is only going to get better and Wil Myers' debut is right around the corner. Along with Alex Gordon and Billy Butler, the Royals are really close to having a solid offense and defense. They already have the pieces in place for a good bullpen, too.
Here's what I wrote about the starting pitching in the Royals R.I.P. and it obviously still applies:
"Jake Odorizzi had a good season for Triple-A Omaha and we'll see him in the bigs here a few times before the offseason, but Mike Montgomery was awful in both Triple-A and Double-A this season. The aforementioned [Luke] Hochevar is clearly a bust while [Bruce] Chen, [Jeremy] Guthrie and a few others are just spot-fillers. Danny Duffy won't be back for a bit due to Tommy John surgery. Will Smith never really put up great numbers in the minors and he's been roughed up in the majors this season."
Haren, 32, was 12-13 with a 4.33 ERA last season, but he battled back issues throughout the season. He even hit the disabled list for the first time in his career. In 2011, he was 16-10 with a 3.17 ERA. Assuming he returns to form -- and there's really very little reason to believe otherwise -- he'd serve as a fine staff ace of the Royals.
Santana, 29, was 9-13 with a 5.16 ERA last season. He led the majors with 39 home runs allowed. Basically, he was awful. Still, he's not old and he's put together several good seasons before. He has the stuff to have a successful season. If the Royals don't want to cough up what it'll take to get Haren, Santana would be a fallback option and it's reasonable to believe he could have a No. 2 starter type year in Kansas City.
The Royals shouldn't have to give much up in return for either Haren or Santana, though, considering it's pretty well known the Angels don't intend to bring either back. The problem in trading for either is the Royals would have to pick up the contract option. Haren's is a $15.5 million option and Santana's is $13 million. So, no, it's not realistic to believe the Royals can swing a deal for both. Still, one is possible.
We know how frugal Royals owner David Glass can be, but he has the dough and it's high time he spent some to give the great fans of Kansas City a product on the field they can enjoy. Landing Haren or Santana would be a step in the right direction.
For more baseball news, rumors and analysis, follow @EyeOnBaseball on Twitter, subscribe to the RSS feed and "like" us on Facebook.